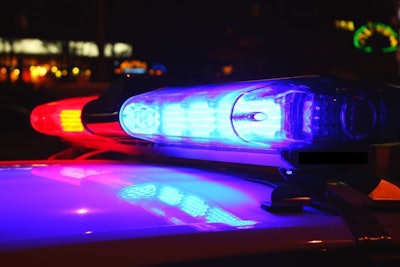 A man who led police on a wild goose chase after allegedly robbing a landscaping company in Pierce County, Washington, has been charged with six criminal counts.
John "Colby" Dherin Bell, 26, was charged with second-degree burglary, second-degree theft, third-degree malicious mischief, first-degree criminal trespassing, attempting to elude a pursuing police vehicle and third-degree driving on a suspended license. He pled not guilty on Wednesday, Dec. 3, and was jailed in lieu of $15,000 bail.
Bell was arrested on Nov. 26 after two men led officers on a chase following the attempted theft of equipment from a landscaping company.
Video footage from the company shows the men breaking in and cutting the locks off of five lockers. Police were called about 3:45 a.m. and saw a Nissan truck leave the company property.
After ignoring the officer's attempt to pull the truck over, the driver ran a stop sign and continued fleeing police at speeds up to 100 miles per hour. Eventually, the two suspects bailed out of the truck.
The passenger escaped, but the officer pursued the driver down a slippery embankment near the Puyallup River.
According to The News Tribune, records in the case state: "The officer reached to grab for the defendant, but the defendant was sliding down the embankment toward the river, and the officer did not have solid footing to be able to prevent the defendant from entering the water."
Police found clothing on the other side of the river, but they could not find the driver of the suspects' vehicle.
The next morning, a man found Bell – wearing only underwear and shoes – in his garage.
The man gave Bell some clothes and invited him to warm up by a fire after Bell told him that his friend had crashed into the river. The man also drove Bell home. Later on, the good Samaritan heard about the hot pursuit on the news and contacted the police with Bell's address.
Bell was arrested and claimed that heroin had been the cause of his bad decisions, according to police. Investigators recovered four leaf blowers, two line trimmers, a hedge cutter and six spools of wire and copper wire from the Nissan truck.