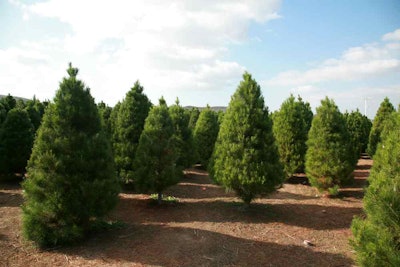 If four years of drought in California have not been kind to lawns, Christmas trees in the Golden State have done their share of suffering.
Seedlings have been hit hardest and many died when growers like Louise Jensen-Moran of Crest Ranch Christmas Tree Farm had to stop watering them. Fewer established trees died, but some have begun to yellow out in the sun.
According to the American Christmas Tree Association, 30 percent of the Californians shopping for a tree are taking the drought into account. Of those surveyed, 18 percent are switching from a real to an artificial tree and 9 percent have decided to go treeless entirely.
The lack of water also affects the growth rate of the trees and lessens the variety available, as some growers try to focus on those that require less water. It takes six to eight years for a tree to reach maturity, meaning the weather effects tend be drawn out.
Scott Martin, owner of Living Christmas Co., removed 200 of his traditional Christmas pines due to their thirsty nature, unlike the spruce, according to the Los Angeles Times.
Jensen-Moran resorted to a nontoxic color spray to use on some of her yellowed trees.
"People are thrilled with them; they love them," she told the Santa Cruz Sentinel.
Most California customers probably haven't noticed a difference in tree availability because 90 percent of the trees sold in the state come from Oregon and Washington.
Those who do still grow Christmas trees in California have adopted the stump culture growing technique. By leaving a few branches attached to the stump when they harvest the tree, a new tree is able to grow from the stump without the time-consuming process of creating a deep root system.
This helps protect the young trees from the ongoing drought, a great advantage over the seedlings starting from scratch. Growers anticipate wet winter weather will ease the stress.
"If you don't get rain during the winter, you don't get a really good growing season," Debbie Livingstone, owner of Summit Christmas Tree Farm, told the Santa Cruz newspaper. "You grin and bear it and hope for the best and wait for the rains to come."