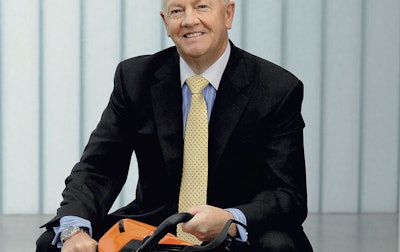 Stihl Inc., the U.S. subsidiary of the world's largest manufacturer of chainsaws, says its retired president, Fred J. Whyte, will stay on as chairman and sole director of the Virginia Beach, Virginia-based company.
According to a Stihl Inc. news release, Whyte "will act in an advisory role," working with his handpicked successor as president, Bjoern Fischer, as well as other senior executives.
Whyte began his career with Stihl in 1971, working as a regional manager for Stihl American, the same company where his father had worked for nearly two decades. He became product manager for Stihl in 1975 and was promoted to national sales manager four years later.
At the age of 34, Whyte became president of Stihl Limited, where he founded the Canadian operation in 1982 and served until he became president of Stihl Inc.
The U.S. landscaping industry certainly contributed to Whyte's success: Among other achievements during his tenure as president of Stihl Inc. was a seven-year run as America's top-selling brand of gasoline-powered, handheld outdoor power equipment.
"Bjoern was my recommendation to succeed me as the person to lead our company in the future, and the Stihl family agreed," said Whyte. "He and the Stihl Inc. management team will be steering the ship and my role will be to help them read the map."
Stihl Inc. is one of numerous subsidiaries of Stihl Holding AG & Co. KG, which is headquartered in Waiblingen, Germany.