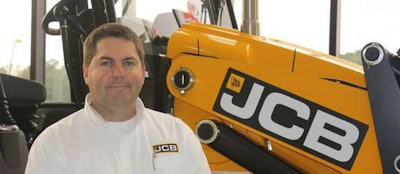 JCB North America has appointed Tim Witter as its vice president of manufacturing.
In his new position, Witter is responsible for JCB's Savannah, Georgia-based North American Manufacturing Center, which builds the company's skid steer and compact track loaders, the 3CX backhoe loader and the HMEE (High Mobility Engineer Excavator).
Witter now oversees all of the manufacturing departments in Savannah, including the engineering, production, manufacturing purchasing, and logistics departments. He also oversees production control, manufacturing engineering, quality and new product introductions, as well as providing direction for global production of JCB skid steer and compact track loaders.
Witter's professional experience includes more than 18 years at Gorbel Inc., a global overhead handling solutions manufacturer, where he served as vice president of operations. In that position, Witter was responsible for all areas of manufacturing, production, logistics, engineering, IT and product development. Previously, he served as engineering manager for Champion Products and director of operations at Melton Shirt Co.
Originally from Caledonia, New York, Witter is an active member of the manufacturing community, serving as an executive committee member of the Finger Lake Advanced Manufacturers' Enterprise. He also serves on the advisory boards of Georgia Tech Savannah, Georgia Southern College of Engineering & Information Technology, and Finger Lakes Community College's Instrumentation & Automation Program.
Witter replaces industry veteran Stuart Hughes, who returned to JCB's global headquarters in Rocester in the United Kingdom in November to lead the company's Heavyline Product Manufacturing Center as director of operations.