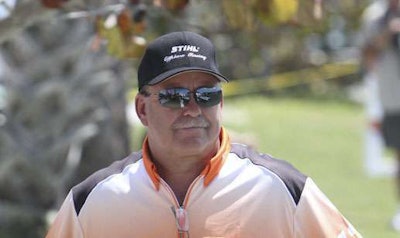 Stihl Southeast President Bob Noble Jr., affectionately known as "JR," died March 8 in Orlando, Florida, according to a news release from the company. "As an extended member of the Stihl Inc. family, he will be missed immensely and his legacy will continue to inspire those who knew him," the statement said.
Originally from Grand Rapids, Michigan, Noble moved to Orlando in 1988 to join Stihl Southeast. As a wholesale distributor serving Florida, Georgia, Alabama and several of the neighboring islands, Noble was promoted from sales manager to president in 1999, when his father and Stihl Southeast founder Bob Noble Sr. retired.
"Bob Noble Jr. was devoted to providing top-quality service to our servicing dealers and this will continue to be a priority at Stihl Southeast," said Bjoern Fischer, president of Stihl Inc. "We are all saddened by his loss and will be thinking of the entire Noble family during this difficult time."
Noble's enthusiasm for Stihl and for extreme sports led to the establishment of the Stihl Offshore Racing Team in 2007. Just two years later, Noble drove the Stihl boat in the team's first appearance at the national and world championship in the stock-outboard class. With Noble at the wheel, Team Stihl captured the national and world titles.
"I love being a part of the offshore racing community," Noble once told an interviewer. "The camaraderie shown by everyone in the sport, win or lose, is what makes it such an enjoyable and rewarding activity. And like Stihl, it's the people that always make the difference."
Randy Lail has been appointed to succeed Noble at Stihl Southeast.