For the first time this year, the national average price for a gallon of regular gasoline exceeded $2 late last week, following three straight weeks of increases.
According to AAA, the nonprofit federation of motor clubs throughout North America, this week's average is $2.04 a gallon, up 6 cents for the week and 30 cents a gallon higher than it was a month ago. Nonetheless, gas prices remain 39 cents a gallon cheaper than they were a year ago, AAA says.
The organization reports that many U.S. oil refineries are conducting seasonal maintenance, leading to a decline in fuel production. The facilities have also begun to transition to summer blends mandated by the Environmental Protection Agency. Retailers in many parts of the country may sell only the required summer blend beginning June 1.
As usual, California ($2.77) remains the nation's most expensive retail market for gasoline, AAA says, with Hawaii second at $2.56 a gallon. The nation's lowest average prices can be found in New Jersey ($1.83) and Missouri ($1.85).
This week's average price per gallon was higher in 47 states, with 28 of those, along with the nation's capital, seeing a jump of at least a nickel compared with the week before.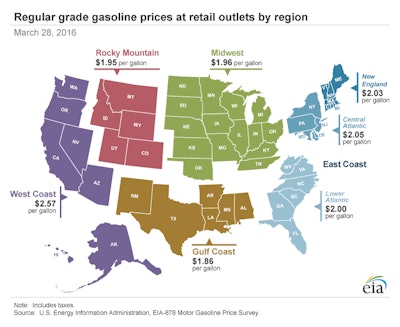 AAA says the five states with the largest weekly increases were Arizona (+14 cents), New Hampshire (+11 cents), Massachusetts (+11 cents) and Connecticut (+11 cents).
As for monthly comparisons, the average price at the pump is up by a dime or more per gallon in 48 states and Washington, D.C. In 35 of those states, according to AAA, today's average price per gallon is up by a quarter or more vs. the previous month.
The good news, of course, is that even after three straight weeks of rising prices, nearly every state's motorists – not to mention landscapers fueling their equipment – are paying between 25 and 50 cents a gallon less than they were at this time last year, AAA says.