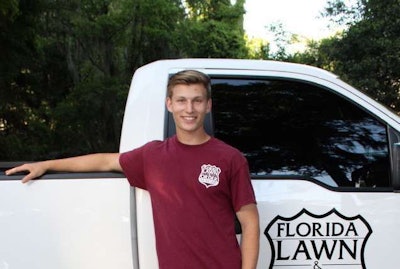 A young landscaper has been recognized for his entrepreneurial spirit and has been awarded LawnStarter's first-ever "Lawntrepreneur Scholarship."
Spencer Marble is the 18-year-old owner of Florida Lawn and Order. He is a senior at Creekside High School in St. Johns, Florida.
Marble, who started his business in 2014, now has two full-time employees, who are also 18, and provides lawn care to more than 50 customers each week in the St. Johns area.
"We are very impressed with Spencer's ability to own and operate a successful business at such a young age," said Ryan Farley, co-founder and chief operating officer of LawnStarter. "With hard work and persistence, we are confident that Spencer will become an even more successful entrepreneur."
The lawn-care company isn't Marble's first business, as he had a pressure-washing company when he lived in Michigan. It was when he moved to Florida two years ago that he noticed the number of lawn-care companies and saw an opportunity to stand out from the rest.
Among its services, Florida Lawn and Order offers lawn maintenance, mulching and pressure washing. Marble does not require his customers to sign a contract and guarantees 100 percent satisfaction or the job is free.
"An honest handshake and earning your business each and every time we come out to service your property is what we believe in," the company's website says. "We always make our customers the priority by using simple, courteous practices. We will always answer the phone or return your call promptly."
Originally, Marble planned to build and sell his company, but he has discovered that his area is growing immensely and has tons of lawn-care and landscaping opportunities.
"I do see myself in this industry for quite a while," he said. "I like the idea of growing a company. I made the decision I was going to be my own boss from early on."
When he started the company at 17, becoming fully insured was difficult at first because of the high price. Marble managed, however, and now has a half-million-dollar policy that covers his equipment.
Marble's company is part of LawnStarter's lawn-care network, which connects customers looking for lawn care with companies in their area that are able to accommodate the customer's schedule. Although most of the companies that are part of LawnStarter's network are run by professionals with an average of 12 years of experience, LawnStarter says it was impressed with Marble's determination, as he reached out to them first.
"Every day of the week, Florida Lawn and Order is dedicated to providing the best customer service possible," Farley said. "Spencer's commitment to customer satisfaction is exemplary."
Balancing school and work might sound like a challenge, but Marble has turned it into a win-win. As a company owner, he is able to count his work as co-op hours and only attends school for half days. Practicing good time management enables Marble to pick up his trailer and get a head start on work.
Marble plans to use the $1,000 scholarship to help pay for his online college classes in the fall and the once-a-week, on-campus class he will attend at night.
"This scholarship means a lot to me," Marble said. "My parents are very supportive of me and my business endeavors and know this is one of many more to come. I take this as a humble stepping stone in the right direction."
He plans to study topics such as marketing, human resources and customer service while still running his company.
"I just purchased a second trailer and got it ready for a second crew," Marble said. "We are growing at a rate where I think we might need a second crew."
LawnStarter will now be awarding their Lawntrepreneur Scholarship on an annual basis to students who have the willpower and determination to build a great business.
"We were inspired to offer the scholarship after witnessing the entrepreneurial spirit of the lawn-care providers in the network, and we wanted to encourage that sort of entrepreneurial spirt in up-and-coming 'lawntrepreneurs,'" Farley said.