Seventy-two percent of American homeowners say they are looking forward to working in their yards this summer, according to new research from Troy-Bilt. The equipment maker's survey also showed more than half of the respondents handle all their lawn and garden care, while only 6 percent hired someone to handle all of their yard needs.

The Troy-Bilt survey's findings indicated that more than half of homeowners spend at least three hours a week working on their lawns and gardens in the summer.
Troy-Bilt says the recent survey produced some unexpected findings about outdoor entertaining and yard habits, including:
Sixty-seven percent of respondents will host a cookout or party during the summer.
Thirty-six percent of homeowners will spend six hours or more preparing their yards for outdoor entertainment.
The most common summer yard tasks include mowing, yard cleanup and maintenance, and weeding. Edging, fertilizing and mulching are less likely to be done on a regular basis.
Homeowners in the Midwest are more likely than all other regions in the United States to mow regularly, while homeowners in the West are less likely to mulch on a regular basis.
"Homeowners are willing to work continuously on their lawns and gardens because they care greatly about the overall look of their outdoor spaces," said Megan Peth, Troy-Bilt brand marketing director.
Troy-Bilt's product line includes tractors, mowers, tillers, cultivators, trimmers and snow throwers, among other outdoor power tools.
Software maker boasts of landscaping client
MetaOption LLC, maker of Goods Order Inventory System Pro, or "GOIS," says Las Vegas's V.I.P. Landscaping has selected GOIS to automate its inventory management process.
The software maker describes GOIS as a cloud-based, "all-in-one" inventory management application that simplifies inventory and stock management processes for small and medium-size businesses.

Available for download from Google Play Store and Apple iTunes, the software is compatible with multiple devices, including PCs, laptops, browsers, tablets, iPads and smartphones.
Patrick Belcastro, a senior irrigation technician with V.I.P. Landscaping, says the company's employees have the GLOIS app opened on their mobile devices as they gather at the shop each morning to load up parts for the day. The workers "go about our business picking the parts we need and entering them on sales orders or transferring the items to another location before use. Before, we would have one person with a pen and pad of paper and he would collect all the data each morning and enter everything manually into an excel spreadsheet for tracking –very time consuming and not effective at all."
For more detail about the application's capabilities, go here.
Subaru to focus on automobile division
Fuji Heavy Industries recently announced a name change to Subaru Corp., along with an operational change that will focus all engineering and financial resources on the automobile division. The Industrial Power Products division will close after fulfilling all order commitments for 2017.

However, the company says product parts and support will remain available indefinitely.
Subaru says it intends to continue to supply spare parts for a "reasonable period" and customers will see no change in quality assurance of products.
Effective immediately, Fuji Heavy Industries has suspended all new development projects of the industrial business. This includes not only newly received inquiries but also current, ongoing projects.
FHI says it will temporarily maintain the production, supply and servicing of existing models. Subaru Industrial Power Products is a subsidiary of Fuji Heavy Industries Ltd.
Memorial Day gas prices lowest since '09
The Energy Information Administration (EIA) reports that the U.S. average retail price for gasoline was $2.30 per gallon on May 23 – 47 cents per gallon lower than the same day last year and the lowest average price just before Memorial Day weekend since 2009.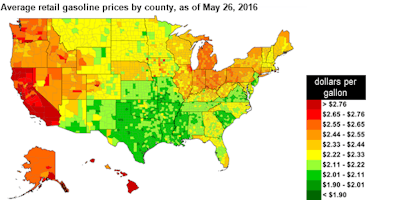 Average retail gasoline prices for all regions of the country are below their year-ago levels, according to EIA, which is part of the U.S. Department of Energy.
The West Coast price is the highest at $2.66 per gallon, even though it is 83 cents per gallon lower than this time last year. Average retail gasoline prices were lowest on the Gulf Coast on May 23, at $2.06 per gallon.
EIA forecasts the U.S. monthly gasoline price to average $2.21 per gallon during the 2016 summer driving season (April through September), 42 cents a gallon lower than last year. For all of 2016, EIA projects the retail price of regular gasoline will average $2.08 per gallon.
Meanwhile, AAA, in association with IHS Inc., expects more than 38 million people to travel this weekend – almost 90 percent of them by car – the second-highest on record and the most Memorial Day travelers since 2005.