Jarraff Industries says the capabilities of its Geo-Boy Brush Cutter Tractor, which has long been used in maintaining transportation and utility rights-of-way (ROW), have gradually been discovered by other industries, which are now using the Geo-Boy for a variety of other applications.
Jarraff says interest in the Geo-Boy has spread steadily and now includes companies specializing in land clearing and site preparation, invasive vegetation species management, storm damage removal and clean up, wildfire management and seismic mapping operations.
"The Geo-Boy has always been utilized by ROW maintenance contractors," said Heidi Boyum, president of Jarraff Industries, "but what we've seen over the last several years is an expansion into other industries and applications where the machine has really proven to be effective and valuable. We continue to update the functionality of the Geo-Boy, as well as its safety attributes …"
The Geo-Boy is available in wheeled and track configurations. Both models are ROPS and FOPS certified. With two tier III engine options, 220 horsepower and 260 horsepower, Jarraff says, the Geo-Boy is more powerful and fuel efficient than other brush cutters in its class.
For more details about the machine, visit the company's website here.
Stihl lauds batteries' power-to-weight ratios
Stihl says its continuing research and development is advancing battery technology, pointing to the company's AP 100 and 300 lithium-ion batteries. Both deliver heavy-duty performance in lightweight packages, according to Stihl. The company's line of outdoor power equipment now includes a variety of cordless, battery-powered machines.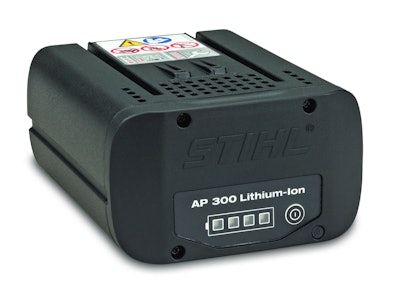 The AP 100 and AP 300 are compatible with all 15 Stihl battery-powered products.
At just 1.8 pounds, the AP 100 produces the same energy content and run times with 31 percent less battery weight than the previous model, Stihl says.
The AP 300, meanwhile, is the most powerful handheld lithium-ion battery in the Stihl lineup, enabling users to tackle larger landscapes with fewer recharges and producing 28 percent more energy content while remaining the same weight as the previous model (3.8 pounds).
Stihl also says its batteries are built for long service. The AP 100 and AP 300 can be charged hundreds of times, the company says, without any noticeable loss in capacity.
Komatsu introduces D39PXi-24 crawler dozer
Komatsu America Corp. recently introduced the D39PXi-24 crawler dozer. The machine eliminates the need to install and remove blade-mounted sensors each day.
"With factory integration and a host of intelligent capabilities, the more owners of the D39PXi-24 run their machines, the more they save," said Jason Anetsberger, Komatsu senior product manager.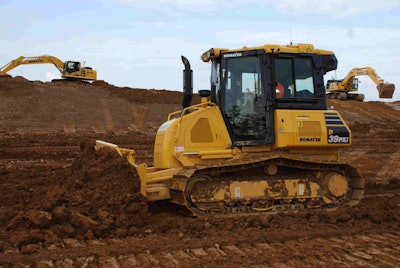 The new Komatsu has a number of automated systems. For example, it automatically starts the cut and lowers the blade to grade in a typical dozing pass. If the load increases to a maximum, the blade automatically raises to minimize track slip to keep dozing productively. This intelligence, according to Komatsu, achieves up to 8 percent greater efficiency in moving material, based on start-to-finish grade testing against typical aftermarket machine control systems.
Komatsu says new standard, operator-selectable, automatic reverse grading mode enables automatic blade control, while reversing to grade target surface,
The D39PXi-24 is powered by a 3.26-litre, 105 horsepower Tier 4 Final engine, which offers increased fuel efficiency with the addition of a selective catalytic reduction (SCR) system and diesel exhaust fluid.
Komatsu says its Diesel Oxidation Catalyst provides 100 percent passive regeneration and does not interfere with machine operation.
The machine's new auto-idle shutdown helps reduce idle time and saves fuel, the manufacturer says.