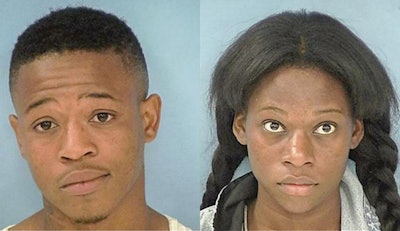 A pair of thieves did not get very far with their landscaping loot after driving off with a worker's truck in Fayetteville, Georgia.
According to Sheriff Barry Babb, the theft occurred at 12:40 p.m. on June 15. Authorities say Quintavious Maxey, 22, and Tyeshia Head, 21, pulled up at a residence and Maxey proceeded to enter a Chevrolet Silverado belonging to a landscape worker who was in the backyard.
The homeowner sitting on the porch saw all of this and began to yell. The landscape worker ran to the front yard and police say Maxey fired at him while driving off with the truck and trailer.
Babb told The Citizen that no one was hit by the gunfire. The trailer contained a lawn mower and other equipment. The trailer gate was down when the truck was stolen; the thief let the gate drag as he drove away.
After an intense search, both Maxey and Head were arrested by 3:30 p.m.
Maxey has been charged with armed robbery, motor vehicle hijacking, theft by taking, aggravated assault, criminal damage to property, possessing of a weapon during a crime, and possessing a weapon as a convicted felon.
Head was charged with armed robbery, motor vehicle hijacking and theft by taking.