Western Products and Pro-Tech will each donate custom, military-themed snow removal equipment to be raffled off in support of the non-profit arm of the American Veterans Traveling Tribute (AVTT).
AVTT is a veteran owned and operated business that specializes in supporting the recognition and remembrance of fallen service members by assisting with travel to war memorials and providing scholarships to veterans' family members.
The raffle of the special snowplows will be held in conjunction with the Snow and Ice Management Association's annual Snow and Ice Symposium June 22-24 at the Rhode Island Convention Center in Providence.
The raffle is set for noon June 24 in the main registration area at the show, and tickets may be purchased on the show floor prior to the drawing. One hundred percent of the raffle proceeds will be donated to AVTT, going directly to veterans and their families.
"Western Products is honored to support such an important organization as the AVTT," said Katie Sandieson, the company's director of advertising and communications. "This is an excellent opportunity for us to support our veterans and their families and we look forward to hearing about the successful trips and scholarships in the future."
The unique Western "Wide-Out" snowplow and Pro-Tech Rubber Edge Sno Pusher were designed in tandem with Rich Arlington & Associates, a leading industry consultant. Rich Arlington served in the United States Marine Corps from 1983-1987 and has also been a snow and ice removal contractor since the 1980s. The design commemorates each of the five branches of the U.S. military and their veterans.
"Seeing projects like this come together is truly inspiring," said Lt. Col. Don Allen, U.S. Army (Ret.), a member of AVTT. "Supporting our veterans is an important cause. These donations will give them and their families the opportunity to pay respect to fallen service members and help pave a bright educational path for their children."
For more information on the American Veterans Traveling Tribute mission, visit this website. You can find out more about the SIMA Snow and Ice Symposium here.
AAA: Gas prices drop for 9 straight days
Gas prices have fallen for nine consecutive days to arrive at today's national average of $2.33 per gallon, according to AAA.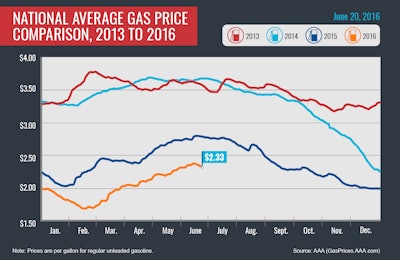 The decline comes despite continuing high demand; in fact, AAA says gasoline demand appears on track to set a new all-time high for the 2016 summer driving season. However, while crude oil prices have shown intermittent gains over the past several weeks, it's still much less expensive than in years past.
AAA says most U.S. drivers are saving about a nickel a gallon this week vs. last, while paying 5 cents a gallon more than they were at this time last month.
Compared with this time last year, average gasoline prices are down 46 cents a gallon.
AAA reports that the nation's top five most expensive markets are: California ($2.86), Hawaii ($2.75), Alaska ($2.68), Washington ($2.65), and Michigan ($2.59).
The nation's five least expensive markets are: South Carolina ($2.03), Mississippi ($2.07), Arkansas ($2.09), Oklahoma ($2.09) and New Jersey ($2.11).
Bayer Twitter handle dedicated to production ornamentals
Bayer Environmental Science, a division of company's Crop Science operations, has launched a new Twitter handle "dedicated to engaging and conversing directly with professional growers in nurseries, greenhouses and garden centers across the country," Bayer said in announcing the new outreach effort.
The development of the @BayerOrnamental Twitter handle is part of an ongoing effort by Bayer to expand its presence in the production ornamentals market.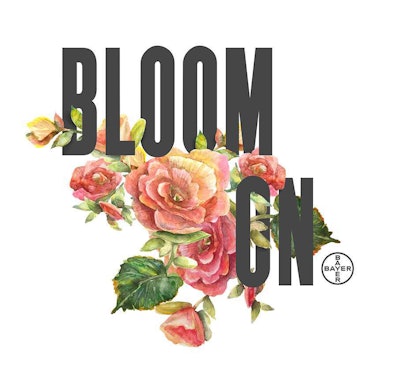 Bayer says professional growers can expect to get instant access to industry news and technical expertise and to be among the first to learn when Bayer fully expands its presence in the production ornamentals market in November.
"Establishing a Twitter platform dedicated to ornamentals is a fundamental step in better serving growers," said John Wendorf, U.S. business manager for the Bayer production ornamentals business. "We look forward to offering growers the same industry and product expertise that our customers have come to expect from the turf side of our business with @BayerGolf and @BayerLawn."
This past October, Bayer announced a plan to expand the way its turf and ornamentals business serves growers. Following 26 years of a highly valued partnership with OHP Inc., Bayer will begin selling directly to the production ornamentals market starting Nov. 1.