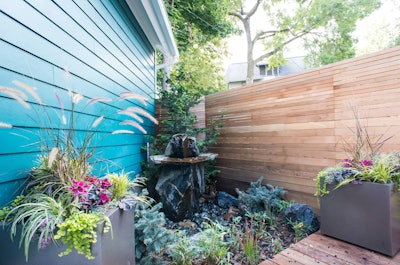 EDITOR'S NOTE: In this story from Houzz, landscapers will find a number of suggestions for overcoming the design challenges inherent in sites with non-traditional shapes and dimensions.
By Natasha Saroca/Houzz
While oddly shaped backyards present design challenges, their imperfections make them so much more interesting than cookie-cutter square or rectangular gardens. The key to landscaping a rear yard that's tiny, narrow, sloped or not quite symmetrical is to embrace its quirks and use creative design tricks to accentuate or work around its unusual shape or situation.
If you're stumped for ideas on how to landscape an irregular rear garden, take design cues from the outdoor spaces below, each of which is an example of an oddly shaped or sited backyard done right.
Problem: Long, narrow yard
Solution: Divide and conquer with zones
Dividing a long, narrow yard into small, distinct zones will break up the expansive space. Rather than slicing up the space using physical structures like privacy screens or tall hedges, which will make the tight area feel even more closed-in, create different zones by using visual tricks.
You can play around with furniture placement, lay down an outdoor rug or introduce contrasting flooring, and strategically position built-ins and garden beds around the space.
Problem: Curved edges and odd angles
Solution: Fake it till you make it
Does the backyard boast curves or lots of odd angles? A simple (and sneaky) way to create an outdoor space with a more traditional and basic footprint is to fill any awkward nooks and gaps along the edge of your rear garden with trees, flowers and shrubs so that you're left with a square or rectangular space in the center of your yard. The vibrant colors and textures of the plants will also offer loads of visual interest and draw attention away from the irregular shape.
For a backyard that oozes character and visual drama, take design cues from this stunning Sydney backyard and celebrate the quirky angles and curves of the property rather than camouflaging them. Embracing the shape of the yard will also ensure that you make the best use of the area, instead of wasting space trying to correct or disguise its flaws.
If the backyard is quite angular, like the spectacular outdoor zone above, introduce lots of lush, leafy plants as well as circular design features and soft furnishings to help soften its harsh angles.
Problem: Sloped
Solution: Work it to your advantage
Working with a sloped backyard? Here's a creative way you can use it to your advantage. Rather than taming the slope, transform it into a play area for kids. This child-friendly incline has been outfitted with a concrete slide and pull-up rope. Genius!
Another way to use a slope to your advantage is to introduce terraces, which will minimize awkward inclines and transform the slope into a more functional and user-friendly outdoor area. Plus, as you can see looking at this stepped alfresco space, multilevel gardens also offer lots of visual drama and add dimension to compact outdoor zones.
Problem: Awkward corners and nooks
Solution: Add a statement feature
Water features, sculptures, planters, sand pits and garden seating nooks are perfect fillers for oddly shaped corners and crevices that you're not quite sure what to do with. Not only will these accents rescue a space that may otherwise go unused, but they'll make an attractive design statement, too.
Whatever space filler you choose, make sure it fills the entire nook so the area looks cozy and complete, rather than bare and unfinished.
Problem: Compact garden
Solution: Play with horizontal and vertical lines
If the backyard in which you're working is on the tight side, make the area appear larger than it really is by working in horizontal and vertical motifs. Here, square pavers are arranged in a stepped and linear pattern, and direct the eye to the back garden wall, creating the illusion of greater depth.
Meanwhile, the ipe wood slatted wall draws the eye from one side of the garden to the other, which visually widens the area and amplifies the feeling of space.
If you desire a more dynamic look, introduce a diagonal linear pattern into your compact backyard instead. Like horizontal and vertical lines, slanted stripes visually expand a space and add a sense of energy and a jolt of visual drama, too.
Problem: Large, empty space
Solution: Introduce an accent piece
Adding a focal point to your backyard is a great way to deflect the focus from an empty space or awkward shape. Design elements like a striking sculpture, a water feature, an accent wall or a petite pergola with seating like the one that takes center stage in this cozy rear garden are guaranteed to make a big design impact and dazzle visitors, so they won't even take note of the backyard's shape or size.
This is also a good trick to try if you're working in an expansive backyard and need something to fill and anchor the area so it doesn't feel empty and overwhelming.
Problem: Boxy space with harsh lines
Solution: Introduce curves
Introducing gently curved or circular design elements to a backyard that's boxy or angular will soften its harsh lines and make it feel more soothing and inviting. If the alfresco area is cube-like in shape or features sharp angles, take design cues from this backyard and consider incorporating a curved bench, paved circle, round fire pit or winding garden bed (or all of the above).
A flowing curved path will also add width and depth to a small or narrow backyard, and trick the eye into thinking the area is larger than it is. Plus, as you can see in this charming rear garden, winding walkways are pleasing to the eye and evoke a sense of calm and tranquility.
The writer is a freelance journalist and contributor to Houzz from Australia. She has worked with a number of home design and lifestyle magazines, including BuildHOME and Kitchens & Bathrooms Quarterly.