The National Hispanic Landscape Alliance (NHLA) is expanding its seminar offerings during GIE+EXPO to better meet the needs of dealers and contractors. Attendees at GIE+EXPO (Green Industry & Equipment Expo) will have the opportunity to attend "Latino Link" sessions all three days of the show.
GIE+EXPO, scheduled for October 19-21 at the Kentucky Exposition Center in Louisville, draws more than 18,000 participants to see the latest landscaping machinery and attend some of the broad offering of educational programs. Oct. 19 is "Dealer Day" at the trade show, which is open to registered attendees Oct. 20-21.
Topics for NHLA's seminars, which will be offered in English and Spanish, have been designed to appeal to a wide range of attendees – dealers seeking to increase sales to area Hispanics, Hispanic contractors eager to achieve greater success and non-Hispanics wishing to engage more effectively with Hispanic employees.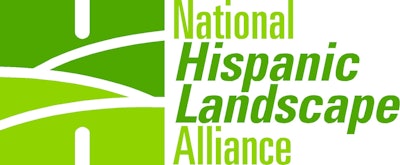 Dealers should be aware pre-registration is required for a special breakfast meeting NHLA has planned for Oct. 19 from 8:30-10:30 a.m. The topic is "Owning the Hispanic Business in your Market," and the $25 registration fee includes breakfast. NHLA's president-elect, Pam Berrios, will moderate a panel of dealer representatives and contractors in a conversation about what it takes to earn and keep Hispanic business in your local market.
To see the rest of the Hispanic organization's educational lineup for the show, including a seminar titled "Keys to Succeeding as an H-2B Employer," visit this page on the GIE+EXPO website.
Landscape Architecture Magazine wins top honors
Landscape Architecture Magazine, an official publication of the American Society of Landscape Architects (ASLA), has won three EXCEL Awards, according to an announcement from Association Media & Publishing (AMP).
The EXCEL Awards program is the largest and most prestigious of its kind, exclusively recognizing excellence and leadership in nonprofit association media, publishing, marketing and communications.
Landscape Architecture Magazine (LAM) was selected as a Gold winner in the category "Magazines: Design Excellence (circulation 10,001 to 20,000)." In the category "Magazines: Feature Article Design (circulation 10,001 to 20,000)," LAM received the Gold award for "Street Theater" and Silver for "We Got Fun. And Foam."

Winners were honored at the recent EXCEL Awards Gala in Washington, D.C., and also will be featured in the July/August issue of AMP's Signature Magazine.
In related news, ASLA also earned a 2016 American Society of American Executives "Power of A(ssociation)" Silver Award for ASLA's Designing Our Future: Sustainable Landscapes educational website, which is designed to educate the public about sustainable landscapes and landscape architecture as a career choice. It includes animations, case studies and K-12 classroom activities.
The Power of A(ssociation) Awards, the industry's highest honor, recognize the association community's valuable contributions on the local, national and global levels.