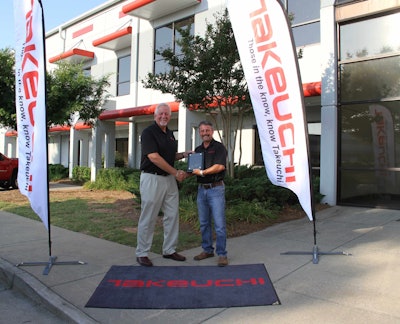 Compact equipment maker Takeuchi-US recently presented its award for top salesperson for 2015 to Jimi Martin of Perimeter Takeuchi, while the top dealer award went to Cobb County Tractor Co. (CCT), an affiliate of Perimeter Takeuchi.
This is the third consecutive year Martin has been recognized by Takeuchi-US for ranking No. 1 in retail sales for North America. It also marks the second time in the past three years that CCT has received the award.
CCT achieved the top performance nationally in machine sales and market share. Steve DePriest, regional business manager at Takeuchi, and Kim Robinson, the equipment maker's director of sales, were on hand to present the awards.
CCT is in Marietta, Georgia, while Perimeter Takeuchi is in nearby Buford. CCT sells industrial and agricultural equipment. Perimeter Takeuchi serves the construction and landscaping industries, as well as offering parts and service.
"What Jimi has accomplished the last few years is unbelievable," DePriest said. "He really is a tremendous salesperson."
Meanwhile, Takeuchi-US also announced the appointment of David Caldwell as its national product manager. Caldwell, a product and training manager for Takeuchi for nearly six years, assumes the new post immediately.
He has more than 17 years of industry experience.
In his new role, Caldwell will be responsible for all new and current Takeuchi products available in the North American market.
Additional responsibilities will include national sales training events and oversight of the company's product team.
Hyundai CE names national service manager
Hyundai Construction Equipment Americas recently announced the appointment of Scott Rainwater as national service manager.
In his new role, Rainwater will lead Hyundai's district service manager team, which supports the company's North American authorized dealer network for its construction equipment product lines.
He also will manage Hyundai's technical training teams for both construction equipment and forklift.
Before his promotion, Rainwater worked for three years on the Hyundai Construction Equipment Americas service team.
Before joining Hyundai, he was a dealer field service technician for a variety of construction equipment manufacturers and later served for 10 years as a dealer service manager in the Atlanta market.