Vista Professional Outdoor Lighting says its contractor customers, along with their landscaping customers, will appreciate the extended range of the company's new vPRO 2 transformer.
While its original vPRO transformers provided users the capability to control outdoor lighting from mobile devices, Vista says the new vPRO 2 greatly extends the range from which reliable control is possible.
A proprietary, downloadable app allows the transformer to be managed by any Bluetooth-enabled device. The new 2.4GHZ external Bluetooth signal antenna on the vPRO 2 enables users to control their outdoor lighting from greater distances.
Multi-circuit control and programming is available through a single Bluetooth connection. The app also offers installation instructions and troubleshooting, making it a handy tool for contractors and end users alike.
Vista says its new vPRO 2 Transformers are made of lightweight stainless steel and feature a low profile, making them easier to handle and install. Functionality now includes adjustable astronomic timing, dual-zone output from one unit, and on-the-fly override of all control aspects. Multi-stage dimming can be accomplished regardless of whether the light source is LED or halogen, while dimming itself is smooth from "full bright" to "off," according to the manufacturer.
The vPRO 2 is available in four American-made models, each with a solid state universal power supply. The VP-75 and VP-150 models feature 75W and 150W single circuits, respectively. The VP-75X2 model supplies 150W with dual 75W circuits, with the VP-150X2 model offering 300W with dual 150W circuits. All vPRO 2 models are rated for both indoor and outdoor installation with selectable adjustment of 12V or 15V.
Vista says self-adjusting voltage and current regulation guards against overloads, surges and spikes, protecting input and output circuits with no breakers to reset.
OX: Diamond blades cheaper in long run
The new OX Tools PU10 cuts quickly due to its continuous rim design that features an edge that is serrated, giving the blade faster cutting speeds while maintaining a smooth cut, according to the tool maker.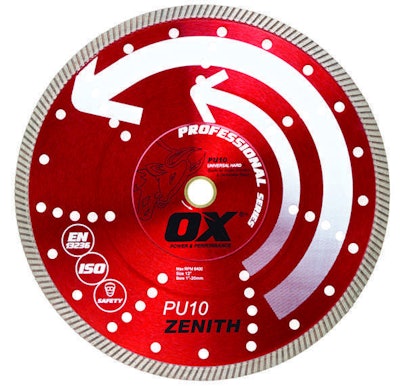 "Diamond blades are very expensive when compared to abrasive wheels," said John Diplock, managing director of OX Tools. "While the initial cost is enough to scare off some purchasers, what is important is the cost per cut … Users can consume up to 50 abrasive wheels to one diamond blade."
OX says the PU10's reinforced center plate offers increased safety while the vibration dampening means quieter cuts. Available from 4-14 inches, the blades can cut granite, natural stone, clay products, engineering bricks, concrete products and metal.
Fumoto offers 'next gen' oil drain valve
Fumoto says it built on the success of its original oil drain valve's design in developing the new, patent-pending Fumoto SX-series. The product is comprised of two distinct but fully integrated parts: the through bolt and oil-flow control body.
The SX can rotate 360 degrees, allowing orientation to achieve a smaller profile. The through-bolt design can be tightened independent of the valve body, simplifying installation.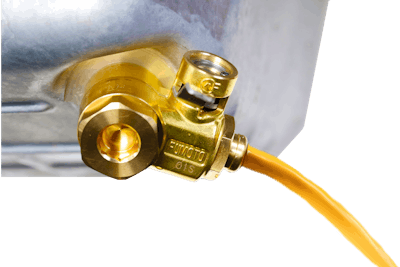 Improvements to the control lever make the valve easier to operate, the company says, even in tight spaces. The SX-series' locking mechanism is unchanged from the manufacturer's original valves but now remains parallel to the body in the closed position for a reduced profile.
Fumoto says the versatility of the SX-series valve also allows installation without an adapter on some cars and trucks that previously required one.