A 53-year-old landscaping company in New Jersey was robbed of two commercial landscaping trucks, two enclosed trailers and a variety of equipment. Total value of the stolen property is estimated at $300,000.
The theft took place about 10:50 p.m. Saturday, according to Morris Plains Police Chief Jason Kohn.
Video surveillance shows a dark-colored SUV enter a storage area in a business complex before the thieves left the area with the trucks and trailers.
Kohn told NJ.com the SUV appeared to be occupied by several people wearing bright safety vests.
The trucks and trailers all feature the company name, A-L Services Inc. Anyone with information about the theft is encouraged to call the Morris Plains Detective Bureau at (973) 538-4210.
Lucky landscaper scores $1 million at gas station
Moises Rodriguez won $1 million in Clayton, North Carolina, while playing the Ultimate Millions scratch-off game.
He bought the $30 ticket at the Valero Express Way on State Highway 42 in Clayton. When he scratched off the winning prize, he was in a state of disbelief, which is understandable since he had a 1 in 886,666.67 chance of winning $1 million.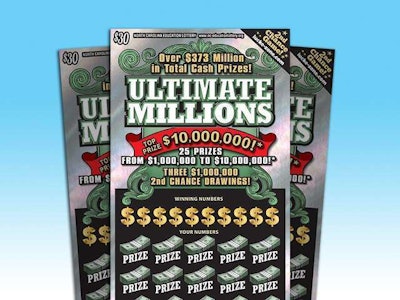 "I had the clerk check it," he told the North Carolina Education Lottery. "But I still didn't believe it."
After finally coming to terms with his windfall, Rodriguez claimed his prize at the lottery headquarters in Raleigh. He had the choice of receiving the $1 million in 20 payments of $50,000 a year or a lump sum of $600,000.
Rodriguez chose the lump sum and went home with $415,509 after federal and state tax withholdings. He plans to take some time before deciding how to spend his money.
Two top prizes for $10 million and five more $1 million prizes remain to be won from the Ultimate Millions game.
Landscape workers make horrific discovery
Landscape workers with Abbott Tree Care were trimming trees on Monday in unincorporated Wheaton, Illinois, when they discovered a dead baby.
The landscapers spotted a small black backpack on the side of a private drive around 3 p.m. They discovered the infant inside along with a blanket.
"It's sad they didn't feel like they could go to somebody for help – that they could've made other decisions," Mike Abbott of Abbot Tree Care told ABC 7.
According to The Daily Herald, the newborn was blue and still had its umbilical cord attached. DuPage County Coroner Richard Jorgensen said preliminary results from an autopsy conducted on Tuesday are pending further investigation.
Police are unsure as to when the backpack was left along the wooded road, but neighbors reported noticing it as early as Sunday. The DuPage County Sheriff's Office is currently searching for the child's mother. They believe she could be in need of medical attention. She may also face criminal charges.
"That's unbelievable," neighbor Kristin Fara told ABC 7. "I don't know how anyone can do that. I have a baby. That's insane."
Bouquets and a cross labeled "Baby Doe" already have sprung up in the location where the backpack was discovered.