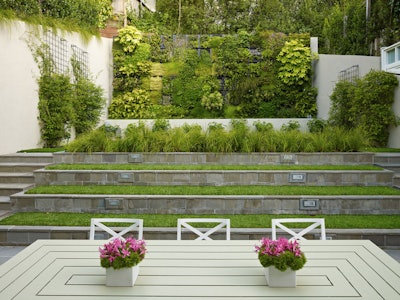 Unsightly walls bring down the look and feel of a garden. For large gardens, the view often can be fixed with plantings that screen the wall. However, an unattractive wall is often more imposing in smaller gardens because it takes up a big portion of the view and becomes a dominant element in the space. Learn how to hide an ugly wall and transform an eyesore into an asset.
Wall checklist: Before you can dream up ways to disguise an unsightly wall, you need to consider a few factors. Your answers to these questions should guide what kinds of solutions you use to hide the wall:
Ownership: Does your customer own this wall, or is it their neighbor's? If your client own the wall, you have more possibilities for making permanent changes. If it's the neighbor's, you will be constrained to using plants or other ways of altering the view.
Governance: Will changes to this wall need to be approved before construction? Is the wall visible from the street? It's common for walls that are visible from the street to use only prescribed materials as defined in your customer's homeowner's association or municipality rules and regulations.
Structure: Is this wall an exterior wall of a home or outbuilding, a retaining wall or a nonstructural site wall? The type of wall affects what you can and cannot do.
Grow vines on the wall. Growing vines directly onto the wall has some challenges, but they can be a great option for site walls or walls that are not a part of the home.
Look for vines that have the ability to grasp directly onto the wall's surface and are not invasive in your climate. Hot-climate gardeners may consider creeping fig (Ficus pumila, USDA zones 9 to 11; find your zone), and gardeners in cool climates may use something like climbing hydrangea (Hydrangea anomala ssp. petiolaris, zones 4 to 8).
Put a trellis in front. Instead of planting directly on the wall, grow vines on a sturdy trellis in front of the wall to screen it. This method is especially useful if your client does not own the wall — it's on a neighboring property — or you can not grow vines directly onto the wall.
A trellis is typically made of either wood or metal and is firmly secured in the ground with footings. Any vine that twines — attaches itself by wrapping around a structure — is a great pick for trellis.
Add a living wall. Living walls make a dense, lush texture of plants that spread across a vertical surface. There are many systems available on the market, but a living wall is going to require more maintenance than using only vines.
When searching for the right product, choose a living wall system that has been successfully used outdoors in your climate. Living walls are kind of an extreme living environment for plants, because they tend to dry out and use only a small amount of soil. Some living wall systems are hydroponic — with no soil at all. The living wall system usually comes with special components for attaching the structure to an existing wall. They also typically require water hookup to the irrigation lines within the system.
If you want a customized living wall to hide an existing wall, work with a landscape designer or landscape architect with experience doing living wall designs.
Use a facade treatment. If the wall you want to cover is a structural wall, then it's safe to apply a facade treatment that attaches directly onto it. This can be in the form of a wood cladding, like the one pictured, or it can be metal, stone, brick or stucco, depending on the surface of the wall.
Attach art panels. Many types of artistic panels — mostly made from metal — can be custom built and attached to an existing drab wall. The panels come in different designs and textures and attach directly to the wall as decorative elements.
The Cor-Ten steel panels pictured here work well because they have a high contrast against the existing wall and are sized to fit the space.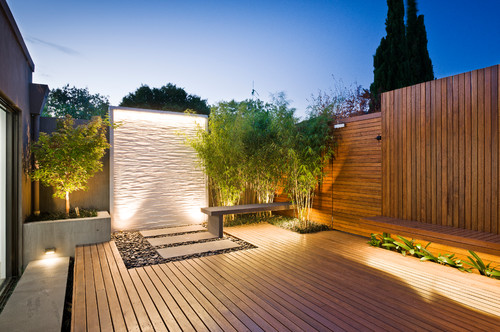 Place elements in front. Place elements in front of the wall, as has been done here with bamboo planting and a protruding white textured accent panel. A panel like this is a simple site wall that acts as an architectural element within a small space and is flanked by vertical plantings.
A panel like this can be a free-floating structure that doesn't touch or build upon the existing wall. It's a handy way to completely screen a wall that is not on your property.
Build up. Pictured here is a smart example of a wood screen built on top of a low brick wall. The wood cladding is integrated thoughtfully with the existing low brick wall and extends up to offer more privacy to a small urban garden.
Build a raised bed. A planted raised bed at the base of an unsightly wall helps hide the wall behind it. This method is useful for the medium-sized garden that can dedicate space to a raised bed.
The important decision will be what types of plants you use against the wall. Choose appropriate plants for the microclimate of your wall face. For example, a north-facing wall is going to be cooler than a south-facing wall; east-facing walls are generally cooler than west-facing walls because they don't get late afternoon sun.
EDITOR'S NOTE: This article was written by Falon Mihalic. This article is from Houzz. Mihalic is a landscape architect in Texas and Florida and owner of Falon Land Studio LLC.