National "811 Day" may only come once a year, but landscape professionals would do well to keep reciting the program's mantra, "Call before you dig," all year long.
Examples of why that's good advice are all too plentiful. A landscaping company in Roanoke, Virginia, was installing a fence for a residential customer when a worker digging a post hole hit a gas line, causing it to leak.
The landscaper called to report the incident, and when first responders arrived, flames were shooting from the ground. Firefighters scrambled to protect nearby houses, according to WSET-TV, the ABC affiliate in Lynchburg, and fortunately no one was injured.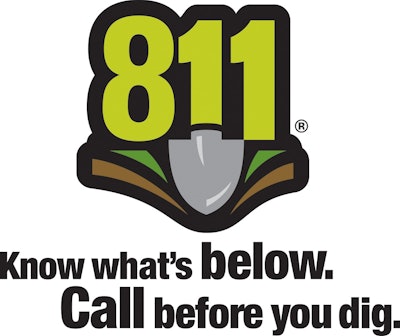 Of course, not all landscape accidents involving underground utility lines involve professional landscapers. A survey by the Common Ground Alliance, which works to promote the 811 program, found nearly half (45 percent) of American homeowners who plan to dig this year for projects like landscaping, installing a fence or mailbox, or building a deck, pond or patio, will put themselves and their communities at risk by not calling 811 to learn the approximate location of underground utilities.
The survey results were shared by another supporter of the 811 program, Subsite Electronics, a Charles Machine Works company that sells a variety of electronic products used to locate underground utilities and guide horizontal directional drilling equipment.
Common Ground Alliance notes that if you take the survey response above and extrapolate it to all U.S. homeowners, the implication is that nearly 40 million Americans will dig this year without first checking for underground lines and having them marked.
Calling 811 is all it takes to get the job done, the organization says, and lines will be marked at no charge to homeowners.
The Common Ground Alliance is also working to spread the message that accidents involving underground pipes and other systems are not rare. And how could they be? The organization reports that there are more than 20 million miles of underground utilities in the United States, or about 105 yards of underground utilities for every man, woman and child in the country.
Given those statistics, it's hardly surprising that an underground utility line is damaged about once every six minutes nationwide.
While most 811 campaigns are directed at homeowners, the incident in Roanoke suggests that professionals need reminders, too.
Subsite Electronics offers the following tips:
Always call 811 a few days before digging, regardless of the depth or your familiarity with the property.
Plan ahead. Call on Monday or Tuesday for work planned for an upcoming weekend, providing ample time for the approximate location of lines to be marked.
Confirm with 811 that all lines have been marked.
Check out the Call 811 page for contractors here.
Consider moving the location of your project if it is near utility line markings.