Toro says its new line of Titan HD zero-turn mowers are ideal for "acreage owners and value-minded landscape contractors." Available in three model families — the 1500 Series, 2000 Series and 2500 Series – Toro says the all-new machines were designed for quality, comfort and versatility.
To improve productivity, the Titan HD Series features tool-mounting brackets, enabling operators to transport tools such as string trimmers or a 5-gallon bucket.
"We're always looking for ways to improve productivity and add value for both acreage owners and professional contractors," says Chris Vogtman, Toro marketing manager.
Toro says its new Titan HD platform also features an adjustable suspension seat, isolated floor pan design, deck step guide, easy side and front mower access, and a 12V outlet accompanied by deep storage pockets. Easy-to-use, commercial-grade hydraulics provide a smooth, powerful response, the company says, and also minimize maintenance requirements.
The Titan HD lineup is powered by a series of commercial-grade engines from Toro, Kohler, and Kawasaki. The mower reaches top ground speeds of up to 10 miles per hour and is offered with deck widths up to 60 inches.
The new line of mowers will be available this fall, Toro says.
TBC to offer all-terrain tires for light trucks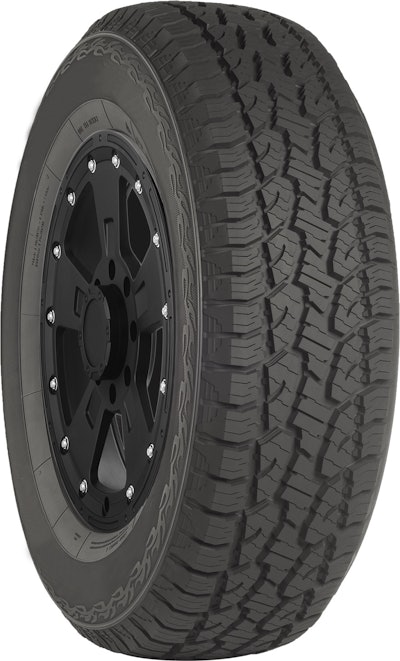 TBC Brands is expanding its light truck tire line-up with the Terramax A/T 4S and Trail Guide All Terrain series in fall 2016.
Both lines have earned the RMA Three Peak Mountain Snow Flake (3PMSF) symbol indicating superior performance in winter driving conditions.
TBC says both the Terramax A/T 4S and Trail Guide Terrain deliver superior on- and off-road traction for SUVs, pickups and vans.
Features of the Terramax A/T 4S and Trail Guide Terrain include:
26 popular metric and LT SKUs covering 16-inch, 17-inch, 18-inch and 20-inch diameters.
Aggressive all terrain tread design.
Increased siping, multi-step lugs and low temperature responsive compound to improve comfort without sacrificing traction.
50,000-mile tread wear warranty.
According to TBC, competitive pricing of the tires will help dealers drive sales in the popular all terrain segment.
"The Terramax A/T 4S continues our expansion of the TBC-exclusive Sailun passenger and light truck program with a great looking and hard-working product that delivers top tier year round performance capability combined with an economical price point that can drive bottom line results," said Jon Vance, vice president of product marketing for TBC Brands. "And with the Trail Guide All Terrain, this outstanding value proposition will also be available to dealers outside of the Sailun dealer network."
Both the Terramax A/T 4S and the Trail Guide All Terrain will be available in October.
Air Lift launches LoadLifter for Ford Super Duty
Air Lift is now offering its heavy-duty LoadLifter 5000 and LoadLifter 5000 Ultimate air series for 2017 Ford Super Duty F-250 and F-350 four-wheel-drive trucks.
LoadLifter 5000, Air Lift's heaviest-rated air spring kit, is specifically engineered for Super Duty pickups. The new LoadLifter 5000 Ultimate offers all the benefits of the LoadLifter 5000 but with the addition of an exclusive internal jounce bumper, which provides added shock absorption and extra protection for heavy loads.
The LoadLifter series works with the vehicle's existing suspension to deliver up to 5,000 pounds of load-leveling capacity and is air adjustable to keep vehicles stable, level and comfortable whether loaded or unloaded.
Each kit includes exclusive Air Lift roll plates, which protect the air springs from sharp edges and increase load capacity up to 10 percent.
The LoadLifter 5000 and LoadLifter 5000 Ultimate kits require no drilling into the frame and install in three hours or less. For convenient inflation and deflation of the air springs, Air Lift offers wired, wireless and automatic on-board air compressor systems.
All Air Lift products are backed by a lifetime warranty that covers the entire contents of the air spring kit, and the company also ensures satisfaction with a 60-day money back guarantee on load support air springs and on-board compressor systems.
For more information about Air Lift's LoadLifter 5000 and LoadLifter 5000 Ultimate series for 2017 Ford Super Duty pickups, visit https://www.airliftcompany.com/products.