STIHL Inc. says its BR 700 backpack blower (64.8 cc) is the most powerful blower in the company's product line. Manufactured in America, the blower delivers 35 Newtons, or about 165 miles per hour, of blowing force.
The blower can clear piles of wet leaves, the manufacturer says, while its power-to-weight ratio makes it comfortable to use on big jobs that require more time.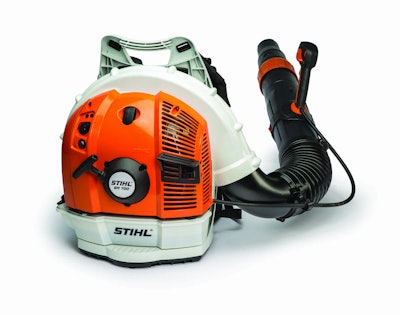 STIHL says the following features make the high-output BR 700 a blower landscape workers will want on any jobsite:
Telescopic tube adjustment enables the operator to quickly adjust the length for a variety of user heights and cleanup applications.
The control handle adjusts without tools to the operator's most comfortable position.
A simplified starting procedure and semi-automatic choke offer easy starts with a reduced chance of flooding.
The streamlined, rounded design reduces the chance of the blower's getting caught on branches when working in tight quarters.
Standard comfort elements such as large straps and a backpack pad, along with a soft rubber grip on the throttle, optimize comfort on the job.
The STIHL BR 700 has a suggested retail price of $549.95.