AmericanHort's signature event, the Cultivate trade show and conference, has been leading the industry for more than 85 years, the association says, and the 2016 event did not disappoint.
Cultivate'16 played host to nearly 10,000 garden retailers, nursery growers, landscapers, greenhouse growers, interior plantscapers, florists, and industry suppliers from all 50 states and 34 countries.
In addition to networking, doing business and exploring new products, a major highlight of the show is the opportunity to see new plant varieties. More than 740 made their debut at Cultivate'16 – from annuals to trees to tropicals. The convention and show also included more than 130 educational sessions.
Ken Fisher, AmericanHort president and CEO, who experienced Cultivate for the first time this year, says preparations are already underway for next year's show, which is scheduled for July 15-18 in Columbus, Ohio.
Komatsu America marks 30 years in Chattanooga
After playing host to a community celebration last week marking 30 years of manufacturing in Chattanooga, Tennessee, Komatsu America this week is offering tours of its plant there.

"The Chattanooga Manufacturing Operation remains a role model for Komatsu overseas plants," said Bruce Nelson, general manager of the Chattanooga plant. "Over the years, we have tested and implemented a number of ideas and technologies that were later adopted worldwide and we've distinguished ourselves for production excellence and our 'Komatsu Way' approach to workplace procedures and worker well-being."
Nelson said the plant's employees are responsible for its success, noting that several of the operation's original hires are celebrating their 30th anniversary with the company. He also expressed pride in Komatsu America's activities as one of Chattanooga's corporate citizens, adding: "We plan to maintain that important connection going forward."
When the Chattanooga Manufacturing Operation opened in February 1985, it was Chattanooga's first Japanese manufacturing plant and Komatsu's first plant on U.S. soil.
STIHL expands chain factory in Switzerland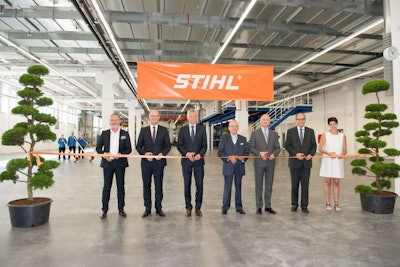 The STIHL Group inaugurated an extension to its Bronschhofen chain production facility in the Swiss Canton of St. Gallen this month. The investment totaled more than $41 million, adding about 180 feet to the length of the existing chain factory, or about 107,000 square feet.
Eventually, STHIL says, the expansion will create 50 new jobs for the community.
STIHL's supervisory and advisory board chairman, Dr. Nikolas Stihl, noted that the saw chains the company makes in Switzerland "occupy a leading position on the world market and are recognized for their technological excellence."
Those chains are exported to 160 countries around the world.
STIHL is currently the only chainsaw manufacturer in the world to develop and produce not only powerheads, but also its own guide bars and saw chain. In the United States, the company is the No. 1 selling brand of gasoline-powered handheld outdoor power equipment.