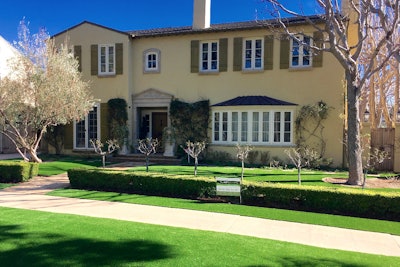 The use of artificial turf in the landscape is a growing business, to be sure, but it's probably best to think of it as a wholly different animal than its athletic cousin. Among the world's sports venues, synthetic grass is a very big business indeed.
For companies focused on the use of artificial grass in the landscape, the past several years have seen steady – even extraordinary – growth. And while much of the traction gained in building the industry to the critical mass it enjoys today can be traced to drought-stricken California and other areas in the Desert Southwest, that's changing steadily.
Joe Vrankin, president of Turfscape, which offers franchise opportunities to landscapers, says its franchisee in Massachusetts is succeeding for a number of reasons, among them the fact that "pesticides are a major issue there."
Water savings will always be the primary boast of the artificial turf industry, but Vrankin says there are "a number of ways that synthetic grass demand is building."
For example, where he lives in Naperville, Illinois, outside Chicago, "we're frequently on those lists of the best places in America to raise a family," Vrankin said. He noted that the city of Naperville recently chose to install artificial grass in downtown areas and along walkways.
The city did it for a number of reasons, he said, including the fact that it looks good. There's the water savings, of course, but Vrankin believes avoiding the noise involved in maintaining natural grass was part of the attraction to synthetic turf.
Vrankin said Turfscape has been doing well since TLC last spoke with him in August. Most importantly, he said, the company's franchisees are enjoying steady success.
"We're pleased with the advertising response we've had," Vrankin said, "but it's the word of mouth and the growth through landscape architects – where we're seeing much larger projects – that are making our franchisees the go-to people for artificial turf."
He said he believes the municipal government market will continue to grow steadily for Turfscape franchisees. Even in areas unaffected by drought, Vrankin said, local governments recognize that "water is a precious commodity."