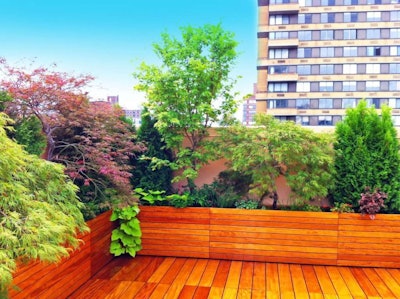 Gardens have been used as a mental and physical respite since the 5th century, and in recent years have been utilized as a form of therapy for patients.
Amber Freda, owner of Amber Freda Home & Garden Design in New York, is helping to define the concept of healing gardens and is now offering them as a service.
"I wanted to create gardens that are more than just beautiful but that also represent a deeper connection to the earth," she said. "With so many of our people living in cities nowadays, there's often a bit of disconnect between us and the natural world. Our brains evolved over millions of years surrounded by the sights, sounds and smells of nature, and there's a lot of science out now that is showing that all of these are essential to our mood and sense of well-being."
Freda is well-known for her work with high-end urban garden designs and has transformed many spaces into beautiful rooftop gardens. With her healing gardens, she plans to take things even further.
"A healing garden brings us back to our most fundamental and necessary connection with nature by engaging the sense on multiple levels," she said. "We still consider aesthetics because, of course, beautiful gardens are also a source of deep comfort, but we might also consider things like the way things smell or sound, such as through the use of a water feature or even grasses that rustle in the wind."
The service will be offered to both residential and commercial clients and Freda sees her healing gardens working well for individuals as well as yoga studios, spas, resort hotels and retreat centers focused on holistic care.
"Anyone who is interested in living healthy, who loves nature, who is interested in self-improvement, and who likes the idea of being able to connect more deeply to their own garden is going to be interested in healing gardens and can benefit from them," Freda said.
She starts the design process for a healing garden by getting to know the person and what they are looking to create in their lives to feel healthier, happier, or more fulfilled.
"There are herbs that can be incorporated into the garden that the person can use in their own teas and baths, for example," Freda said. "Having that involvement of trimming the plants, watching them grow, inhaling their fragrance, and then using them in a formula that nourishes the body and soul is a simple yet powerful practice that in itself is very healing."
While holistic approaches to diet, exercise and all other aspects of life are currently trending, Freda cautions that offering healing gardens as a service requires more than a superficial knowledge of gardening.
"My background, as an example, includes years of study not just in landscape design, but also communications, herbalism, and shamanism, so I have a deep knowledge of these plants, their herbal uses and benefits, interpersonal communications, and also the spiritual side of being able to work with people who want to go even deeper into healing meditations and working with their spirit guides for healing as well, which is another whole aspect to this work."