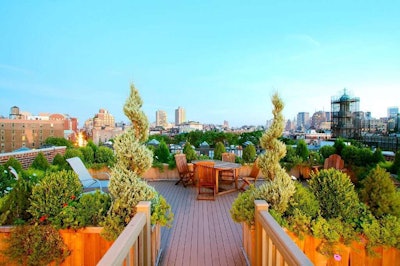 When it comes to serving clients living in the city, landscapers have to be inventive on all fronts, and they'll need to be especially resourceful if asked to create a rooftop garden.
These are small spaces with special views that receive varying sun and wind exposure, and can only tolerate so much weight. Although it is a niche market in the sense that larger cities with towering buildings are going to have more demand for rooftop gardens, they appeal to all people seeking greenery in an urban environment.
"It makes city living much more enjoyable to have a bit of outdoor space to come home to and relax in," said Amber Freda, owner of Amber Freda Home & Garden Design in New York.
Every landscaper knows that each landscape is distinctive, and rooftops are no different. Yet there are some elements that need to be taken into consideration for every rooftop garden design.
Function
Before you can go about designing a dream space for your customer's terrace or rooftop, you need to know the function of the space. A client focused on the outstanding vistas probably doesn't want a lot of privacy fencing or shrubbery infringing on that view.
"Once we can uncover the overall goal in function, we can identify how the space is best suited," said Chris Turner, principal at Elevate By Design based in Denver, Colorado.
The amount and style of the seating can vary depending on whether the rooftop is intended for large gatherings or small get-togethers. If limited seating will do, that space can be put to some other use.
"We also tend to think of the space in terms of outdoor rooms, so you might have one portion of the space that is used for dining, another portion that is cozy seating, and possibly a third portion that could be either a play space, an outdoor kitchen, a Jacuzzi or anything else the homeowner dreams up," Freda said.
No matter what the function of the rooftop, the best rule of thumb for maximizing the space is having everything multi-functional.
"I like to think like a yacht designer," said Christopher Myers, owner and lead designer of Just Terraces, which is also based in New York. "Every piece has to do at least two functions."
All of Myers' installations feature custom pieces such as built-in benches that can be used for storage and tables that can be lifted or lowered, depending on the need.
Watching your weight
You can waste a lot of time creating a stunning design with all the luxury elements if you haven't taken the weight loads into consideration.
This doesn't mean that your client can't have that hot tub; it simply means there's a little more that goes into selecting the placement of all the materials.
Myers always hires an engineer and gets a copy of the structural drawings for the building so he can plan around the weight-bearing structures.
The age of the building and whether the space is a balcony, setback or rooftop will all factor into the ultimate amount of weight you have to work with. For example, brownstones can't support as much as newer buildings, so Myers constructs false floors that are able to spread the weight load more evenly.
Getting to installation
Getting the materials to the jobsite is a very particular challenge when working with rooftop gardens.
"Most of the time, we have to crane all the pieces of the project to the rooftop before install," Turner said. "This includes spas, fire features, outdoor kitchens, etc."
Access in most cases can only be achieved either by crane or elevator, which is another reason why Myers chooses to create custom pieces that can be assembled once at the terrace or rooftop.
"We try to be very efficient about our deliveries," Myers said. "We bring it in as set pieces. I use my background as a set designer to build it like a set and all of it is installed so it can also be taken apart later."
Since it is quite common for leaks, façade repairs and general maintenance to require the removal of a rooftop garden, Myers makes sure the pieces can be taken apart and stored to protect the client's investment.
Aside from making sure the materials can make it to the top, it's important to know what covenants, or bylaws, apply to the building. In New York City, propane tanks are illegal, but each building varies on what it permits.
"Some allow charcoal grills, other buildings only allow electric, others only allow plumbed gas lines," Myers said. "Every building is different. I tell customers that just because you saw your friend's place has one doesn't mean you can have one like that."
No place for wimpy plants
The plant palette for a rooftop garden will vary based on the drainage and layout of the space, but generally, hardy drought-tolerant species will perform better.
Since pretty much all the plants will be grown in a container, they are more vulnerable compared with those grown in the ground. It is important to select hardy plants that don't outgrow their containers.
"I like to think of rooftop gardening as being similar to gardening on top of a mountain," Freda said. "The types of plants that grow well on a mountain are usually more bottom-heavy than top-heavy. Things like conifers, weeping trees or multi-stem trees tend to do better than lollipop-shaped tress because there is less of a chance of their blowing over in a strong wind."
Freda suggests avoiding using large-leaf plants, as they tend to get shredded by the winds and large-leaf evergreens are more likely to get winter-burn in containers.
Some of the trees that Myers prefers include juniper, kwanzan cherry trees, black pines, white pines, 'Crimson Queen' Japanese maples and Teddy Bear Southern magnolias.
Ornamental grasses, ever-blooming roses, trumpet vines, honeysuckle, hostas, creeping jenny and boxwoods are all examples of plants that do particularly well in the sunny and windy environment of rooftop gardens.
One crucial part of installing plants is making sure that there is an automated drip irrigation system in the plans.
Signature elements
The rooftop's features will depend on the client's preferences, of course, but there are some characteristic elements that each designer loves to add to the space.
"Shade is almost always going to be of major importance on a rooftop garden," Freda said. "We would usually create shade through the use of an umbrella, a pergola, an awning or shade sails. I love hanging a big, beautiful pendant light inside of a pergola over a dining table. It's a beautiful, unexpected feature that instantly makes it feel inviting and can add a touch of drama."
Since Myers' rooftop installs are all custom, he loves doing hot tubs and water features.
"All the hot tubs are copper, all handmade for the space, which allows control over depth, size and space," Myers said.
While fire features can be more of a challenge in New York, seeing as each building's bylaws vary, they can be great additions in Colorado.
"Fire features are always great, especially here in Colorado, as we get over 300 days a year of sun," Turner said. "So there are plenty of nice nights, especially during football season, to sit outside with the fire going."
In the end, each rooftop comes with its own unique shape, size, orientation and owner.
"It's a balancing act to get the usability and the elegance and beauty and the practicality right," Myers said. "I love that it's a challenge."