The Kresge Foundation reported on exemplar organizations that are educating and engaging members on climate change and the American Society of Landscape Architects was listed.
The report, "Professional Societies and Climate Change" scrutinized professional societies and how they aided members integrate climate change into their thinking and decision making.
"ASLA is honored to be recognized by the Kresge Foundation," said Nancy Somerville, ASLA executive vice president and CEO. "Most landscape architects acknowledge the reality of climate change and as a result their work helps make communities more resilient and better able to recover from disruptive events."
ASLA recognizes that climate change is a major issue for its member and has responded accordingly by providing a number of resources.
The Society provides a policy statement on climate change, a code of environmental ethics, a resource guide of increasing energy efficiency, a Professional Practice Network focused on sustainable design and development along with various articles in its magazine and blog.
ASLA is also currently working with educators and schools through the Council of Educators of Landscape Architecture. It helped develop The Sustainable Sites Initiative (SITES) and is engaged with political advocacy on the topic of resilience.
Ewing and Rachio launch recycling pilot program
Ewing and Rachio have started a controller recycling program in Colorado and Texas to provide contractors a better way to upgrade their controllers.
Often when a controller is replaced with a more efficient and fully featured one, it is throw away and ends up in a landfill. Currently less than 20 percent of electronic waste is recycled and the chemicals used in electronics can leach into groundwater.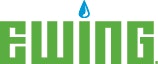 "Rachio is excited to partner with Ewing Irrigation on this initiative," said Brian Ewing, vice president of sales at Rachio. "Every year, hundreds of thousands of controllers are improperly disposed of in local landfills, given there is no easy way for proper disposal. With the replacement rate in the industry accelerating given the massive shift to Wi-Fi controllers, Rachio wants to play a leadership role in making sure we handle this change in a responsible way."
Through this program, Ewing will also partner with Blue Star Recyclers to recycle the controllers. Customers who are replacing or upgrading to a new controller simply bring the old one to the nearest Ewing location.
"We are proud to bring this program to our customers as a way to create a more sustainable irrigation industry," said Warren Gorowitz, Ewing's vice president of sustainability.
The participating locations in the pilot programs include:
Centennial, Colorado
Colorado Springs, Colorado
Commerce City, Colorado
Fort Collins, Colorado
Highlands Ranch, Colorado
Dallas, Texas
Plano, Texas
North Richland Hills, Texas
Fort Worth, Texas
Mesquite, Texas
TYM Tractors announces 6-year warranty for select models
TYM Tractors first introduced its compact tractors in 2004 and at the beginning of this year it has implemented a 6-year limited warranty.
The new warranty includes bumper-to-bumper coverage from years 1-2 and coverage on the drive train for year 3-6.
The select tractor models bought on or after Jan. 1 will include this new warranty. Sub-compact utility models include T234, T254, T354, and the T394. Compact utility models include T454 and T554. The full size utility tractor, T654, also now comes with the warranty.
"TYM is committed to our customers and our confidence in our products enabled us to offer such exceptional warranty program to our customers," the company said.
For more information, contact your local dealer or go to the TYM's website.