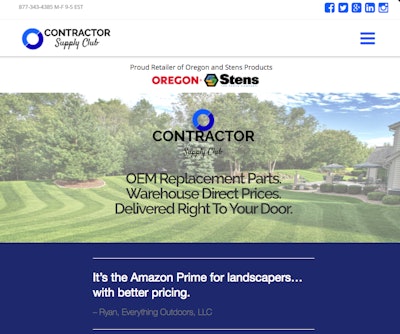 Contractor Supply Club (CSC) is a membership-based website that allows landscapers and lawn care contractors access to direct-from-warehouse pricing on parts and materials needed for their equipment.
The business was founded by former contractor Jason Maynard after he became frustrated with constantly searching for parts online that allowed him to stay competitive.
His goal was to offer the highest quality parts at the best prices. CSC has deals with Oregon and Stens, along with other manufacturers, to provide OEM parts.
"We really did our research, making sure this was something unique in the industry and not just another gimmicky 'price club,'" said Brian Maynard, a partner in the business. "Funny enough, our biggest hurdle was people believing our prices. We are profitable on our membership access and are extremely confident that this a transparent win-win situation for both us and our members."
Members pay $99 for access to manufacturers' prices and $7.99 flat-rate shipping fee per order, regardless of the amount ordered.
Non-members can still receive competitive prices and CSC will price match. Non-members pay a $10.99 flat-rate shipping fee per order.
"On average, members save around 35 percent on their parts," Jason Maynard said. "So, for anyone who spends more than $300 on parts, they are saving money. Well worth the membership price."
For more information about the CSC, click here.
Irrigation Association offers webinar on filtration
The Irrigation Association is offering a webinar on filtration on Friday, March 24 from 2 p.m. to 3 p.m. EST.

Filtration is a key component to drip or microirrigation systems and there are many different filtration practices. Filters help you get the most out of your system while protecting it from plugging and wear.
Brian Spain with Netafim USA will be the presenter. Spain majored in agricultural systems management and grew up in the agriculture industry. The webinar will cover the main types of filtration, how filtration systems work and what filtration method is right for you.
The webinar counts for one continuing education unit (CEU). To register for the webinar, click here.
New trade show draws near
The first ever Northeast Hardscape Expo will be held in Providence, Rhode Island, on April 6 and 7.

The inaugural trade show will feature 2017 Northeast Hardscape Installer Championships, ICPI and NCMA certification courses and 2017 Hardscape Industry Awards. Winners of the championship will represent the region in the 2017 Hardscape North America National Championship.
It is currently the Northeast's only trade show and educational forum designed specifically for hardscape professionals. Attendees will be able to interact with manufacturers and dealers, along with fellow professionals.
For more information about the Northeast Hardscape Expo, click here.
STABIL offers traction footwear for slick and uneven terrain
STABIL has been manufacturing traction footwear for nearly three decades and now it is offering STABIL Turf as a solution to landscape professionals who have to work on slick, wet terrain.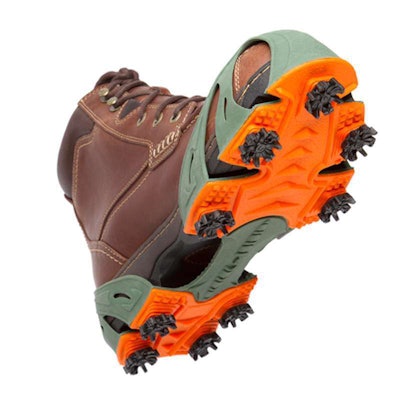 The product is engineered to be lightweight and create a low center of gravity and a wide platform for better stability. STABIL Turf comes with replaceable cleats for extended usage.
Using Tension-Fit Binding allows STABIL Turf to securely fit to any footwear. The product comes in four sizes and can be easily taken on and off so the device can be shared among crew members with similar sizes.
For more information, click here.