Northeast Horticultural Services, based in Stratford, Connecticut, recently earned the Tree Care Industry Association 3-year Residential/Commercial Accreditation, making it one of the 10 companies in the state to do so.
"The TCIA Accreditation validates everything that our company stands for when it comes to offering the best tree care practices to our community," said Stacey Marcell, owner of Northeast Horticultural Services. "I am so proud of our team and that this accreditation recognizes everyone's hard work and commitment to excellence."
The TCIA Accreditation took a year to complete and was extremely comprehensive with an auditor examining every part of the business.
"They make sure you are doing the best business practices," Marcell said. "You have to create a business plan, have a consumer relationship policy, make sure your insurance is set, all personal safety policies are formal, have a drug-free workplace, maintain performance evaluations, have standard operating procedures, training records, files on trucks and maintenance records."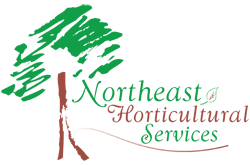 She went on to detail how weekly safety meetings must be held, uniforms should be professional, employees should follow the arborist code of ethics and an injury and illness prevention manual must be maintained.
"It wasn't difficult, but it was very eye-opening," she said. "It helped us improve our professional level."
Northeast Horticultural Services has always strived to stand out from the competition with its commitment to accreditations and its focus on organic services. This drive to follow an ecological approach is thanks to the company's owner.
Marcell developed a passion for working outdoors early on and after realizing that she didn't want to spend her life indoors as a surgeon she found horticulture. She graduated with a degree in horticulture from the University of Wisconsin-Madison in 1999.
She started her own landscaping and tree care company in 2007 after working for a landscape company where she did not feel she fit in due to the boys' club atmosphere. The final straw was when she became pregnant.
"I had two years of paid vacation time and he (the owner) did not honor my maternity leave," Marcell said. "That was the trigger where I decided I wanted control over my own destiny."
She decided the company would focus on offering organic services because she started the business around the same time she had her children.
"I decided I didn't want to put my son down in a lawn covered in pesticides, so I thought there has to be another way," she said. "It's more about putting the right plants in the right place, watering less and fertilizing less."
Marcell believes in encouraging natural biological cycles and providing landscape diversity. Her company is a certified member of the Northeast Organic Farming Association (NOFA) and follows the principle of do no harm, meaning it strives to protect or restore elements important to the local ecosystem.
One of the biggest challenges Marcell says she has faced in the industry is being a woman in a man's world.
"You need courage and self-confidence to enter into conversations with men, who are generally older and think they know more about the industry," she said. "Finding the self-confidence to feel I'm on equal footing with everyone else was key."
She also had to learn how to grow a fleet of trucks, the mechanical aspects of equipment and which machine is the best purchase the hard way as she had no formal training in this area.
Now 10 years later, Marcell is very well versed in her equipment and even uses it to promote her business with her eye-catching pink Bandit wood chipper.
Northeast Horticultural Services employs more than 30 workers and services both commercial and residential properties.
"Although we cut grass, we really do specialize in pruning and the things that require more education," she said. "We cut grass, but we educated the client why. We do what's best for the environment not what's best for the dollar."
One of the specialties the company offers is tree preservation and it happens to be Marcell's favorite type of project.
"I love saving trees in distress," she said. "We have an air spade and it has saved many, many trees. Any time I plant a tree for municipalities, you're leaving a legacy. That feeling of satisfaction that I am leaving a footprint is very exciting. I do it for the legacy. It's great to install a landscape but it's even better when you maintain it and see it mature and look great for years to come."
Marcell sees her company doubling in size over the next 10 years and spearheading the movement in organic services.
She offers a simple word of advice for other women who are considering entering the horticultural field.
"Don't be afraid," Marcell said. "Believe in yourself and work really hard. You need thick skin and a strong sense of purpose."