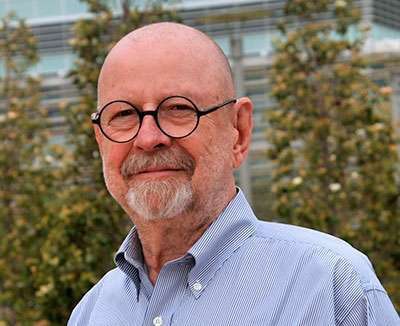 Peter Walker, landscape architect, recently received the first 2017 Richard Brettell Award in the Arts at the University of Texas at Dallas. Along with this award, Walker received $150,000 and a week's residency. During the residency, Walker will be on campus for a series of public talks.
With over 50 years of landscape architect experience in practice and teaching, Walker designed the ongoing campus enhancement plan at UT Dallas. These enhancements include the magnolia tree-lined mall, the wooded area surrounding University Parkway and the trellised plaza.
"I am extremely honored to receive the Brettell Award in the Arts," Walker told the UT of Dallas News Center. "I am grateful to the University, Professor Brettell and our great patron, Margaret McDermott. Working on the campus over the years has been one of the most gratifying experiences of my career."
Walker graduated from Harvard Graduate School of Design. After graduating, he joined his professor Hideo Sasaki to found Sasaki, Walker and Associates in 1957. This later became The SWA Group.
Before forming Peter Walker and Partners in 1983, now PWP Landscape Architecture, Walker spent 17 years building Sasaki, Walker and Associates' reputation as an internationally recognized urban design firm.
Walker in collaboration with Renzo Piano Building Workshop also designed the landscape for the Nasher Sculptor Center in downtown Dallas. The garden design provides an outdoor gallery for the museum's collection of sculptors and is framed by live oak and cedar-elm allées, a series of stone plinths and rows of holly hedges.
"The large-scale works in the Nasher Collection could not ask for a more suitable and inspiring outdoor space to occupy than the Peter Walker-designed garden," Jeremy Strick, director of the Nasher Sculpture Center, told the UT of Dallas News Center. "In the middle of the bustling city, works like Richard Serra's monumental steel piece My Curves are not Mad and the figures of George Segal's Rush Hour carry particular resonance in the tranquil space of the garden, making it one of the most sought-after spots in the city for contemplation and reflection."
The Richard Brettell Award in the Arts at UT Dallas was first established in 2016 with a gift from Margaret McDermott. This award recognizes the fundamental and essential role in the arts in the life of the university, and it honors an artist working in or between any of the broad spectrum of artistic endeavors. This can include the visual arts, literature, music, performance and architecture/design.
During the week's residency, the awardee will present a public lecture in a variety of venues and will interact with students, faculty and staff of UT Dallas, as well as the larger arts community of the Dallas-Ft. Worth area. Awardees are nominated by the Brettell Award Advisory Committee, and the selection of the awardee is made by an Executive Committee composed of university and community leaders.
"There is no artist in any medium who has had a more profound effect on UT Dallas than Peter Walker," Dr. Richard R. Brettell, the Margaret M. McDermott Distinguished Chair of Art and Aesthetic Studies and the Edith O'Donnell Distinguished University Chair, told the UT of Dallas News Center. "Selected with the input of a distinguished committee chaired by the late Raymond Nasher, Peter Walker took a group of neo-modernist and brutalist buildings in Richardson and created — between them — a sense of place that has utterly transformed the campus."