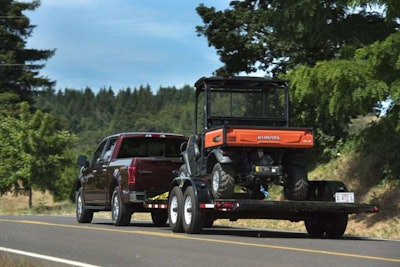 When it comes to transporting equipment for a job or even just regular driving for work, the tendency can be to get where you need to be as quickly as possible. However, traffic rules are not something that should be ignored, even in a time crunch.
Hauling a trailer full of equipment is a task in itself, and when you add the stress of getting to a job on time, carelessness can take over. While these traffic laws may be obvious or even second nature to those of us who have been on the roadways for years, a little refresher course every now and then never hurts.
Following speed limits and understanding brakes
Whether in a residential area or out on the open road, speed limits are not a suggestion; they are the law. Speed limits are not only in effect for your protection, but also for others around you, whether they are on foot or in another vehicle. Stopping can be especially difficult when hauling a heavy trailer, and the option to stop on a dime is nonexistent. Be sure to mind all speed limit, stop and caution signs. Even when these signs are not present, be mindful of your surroundings, and don't speed just to get a job done faster.
When braking, always allow a considerable amount of space between you and other cars in the event you do need to brake quickly. If you experience excess sway and you have an electric trailer brake controller, immediately activate the trailer brake controller by hand. Don't attempt to control the sway by applying the tow vehicle brake, as this generally makes the sway worse.
Making turns and proper passing techniques
When attempting to pass someone on the highway, remember to signal well in advance and allow extra distance to be clear of the vehicle before pulling back into the lane.
Avoid passing on steep upgrades or downgrades, whether hauling a trailer or not. When taking on these on with a trailer, downshift to assist with braking on downgrades and to also add power for climbing hills. On downgrades that are longer, apply the brakes at intervals to keep your speed in check. Don't leave brakes on for an extended amount of time or they could overheat. If your vehicle is designed with a specifically calibrated transmission tow-mode, be sure to use the manufacturer recommended tow-mode.
While it may not seem like there's much of a need for it, those hauling a trailer must remember to overshoot their turns. This must be done to ensure the trailer does not go off the road or come in contact with street-side obstacles. Cutting corners while hauling trailers can not only put what you're hauling in danger, it can also prove detrimental for pedestrians, other drivers and yourself.
Watch for tunnels and underpasses as well, and always keep in mind your trailer's clearance.
Avoid distracted, drowsy and drunk driving
Like we said, these may be painfully obvious but they still need to be reiterated. Even in a regular vehicle not hauling objects, these are important practices to keep in the forefront of your mind, but their importance is increased when you add a trailer full of equipment to the mix.
According to the National Highway Traffic Safety Administration (NHTSA), distracted driving is one of the fastest growing safety issues on the roads today. Distracted driving can come in many forms, such as texting while driving, talking on the phone or to other passengers, eating, watching videos, rubbernecking and more. NHTSA says that in 2015, 3,477 lives were claimed due to distracted driving.
Drowsy driving is very prevalent today and is estimated to contribute to as many as 1.2 million collisions, which potentially results in 5,000-8,000 fatalities per year.
According to the AAA Foundation for Traffic Safety 2015 Traffic Safety Culture Index, one in three drivers, about 31.5 percent, admitted to driving within the prior 30 days when they were so tired that they had trouble keeping their eyes open.
According to LegalMatch.com, the definition of driving under the influence means, "A person cannot operate a vehicle while the person is under the influence of a drug or alcoholic beverage." The NHTSA reports that in 2015, an average of one alcohol-impaired driving fatality occurred every 51 minutes.
While you as an employee should never find yourself drinking or intoxicated while on the job, you absolutely should not follow those decisions by attempting to drive or haul equipment.