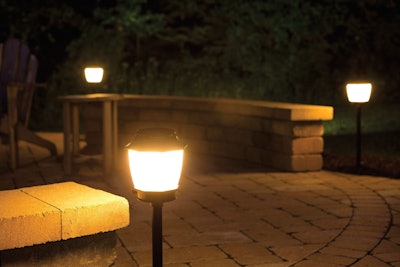 With summer on the horizon, mosquitoes are more of a problem than ever. With this in mind, NuTone is promoting its Haven Backyard Lighting & Mosquito Repellent System.
This system combines LED lighting with mosquito repellency to help your customers enjoy their outside summer fun without getting eaten up. Each fixture contains one mosquito repellent cartridge.
Once turned on, the cartridge is heated by low-voltage electricity. This leads to the production of an odorless, invisible mosquito repelling vapor. The company says that these fixtures are not only odorless but also silent and invisible during use because they contain no smelly oils, smoke and don't produce any loud noises. Each fixture protects a 110-square-foot area, and only four are needed to protect an average sized patio or deck.
Available in black and bronze, these fixtures can either be purchased with the repellent only or with outdoor lighting. Included with these fixtures is one 24 ml Haven repellent cartridge and adaptor cap.
Additional features include:
16 integrated LEDs that provide 40 lumens at 2900K, which the company says lasts 30,000 hours
Powder-coated, cast aluminum housing with UV stabilized polycarbonate lens
Green LED indicator light on fixture glows when repellent system is on. After 195 hours of use, the fixture flashes to indicate it is nearing time to check or replace the cartridge
18-inch stem and 10-inch plastic ground stake
Works with 12v and 15v AC transformer
18-inch leads of 18-gauge cable with tinned ends for easy insertion into cable connector
Two cable connectors and adaptors for 12-16 gauge cable
Three-year limited warranty
NuTone says that Haven's patented mosquito protection system can provide protection within 15 minutes of using the fixtures, and it is effective against all types of mosquitoes. The company says this also included the Aedes aegypti mosquito, a known carrier of the Zika virus.
While developing Haven, NuTone tested out their product in Thailand where it repelled over 90 percent of the mosquitoes, night after night.
The company says that along with being effective, these structures are also safe because of their child-resistant fixtures that open with screwdrivers. The repellent won't harm lawns, shrubs, plants or flowers, according to NuTone, and turning them on is as easy as turning on other lights.
The fixtures are designed for easy insertion into cable connectors, NuTone says, and come with adaptors to fit most transformers and existing wiring systems.
Mounting hardware and Solar Sensor is also included. Either by time of day or by Solar Sensor, the timer/controller allows programming of two circuits of up to four fixtures for automatic operation. A backup battery is also included to save clock and program settings during power outages.