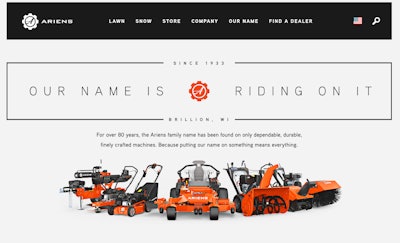 As the temperatures rise and lawn care ramps up, Ariens has launched its brand new website to make selecting from its outdoor power equipment products even easier.
The redesign has been underway for more than a year and took consumer feedback and analytics into consideration. The new website has a simplified layout, and easier navigation to make finding product information more efficient.
Some of the new features Ariens has added include a product selector tool for both lawn and snow products where the user can select the criteria that will match them with the best product for their landscaping needs.
Visitors can view product information and spec comparisons for side-by-side analysis when making their decision. Once they've chosen their product, users can turn to the redesigned dealer locator to find a nearby dealer. It includes individual dealer landing pages and insight on what products and services each dealer offers.
"Last year, we unveiled a new, redesigned logo for the Ariens brand, and this year we are continuing to evolve the Ariens brand with a new website," said Matt Medden, vice president of marketing for Ariens. "The website features a sleek, clean design with the refreshed product line-up and 'Our Story' at the center of attention. It's a testament to the hard work our employees put into making sure that we have the best product this industry has to offer. We take great pride in our work, and this site shows that. We're committed to providing a best-in-class experience for consumers."
The new website also places an emphasis on Ariens' 83-year-old brand with a whole tab dedicated to the company and its history. A detailed timeline of its products and content from the Ariens museum can also be found here. It also takes the time to highlight some of the company employees and their stories.
To view the new Ariens website, click here.