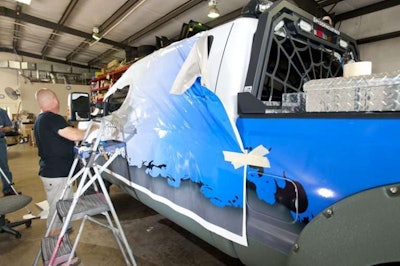 In today's world, gaining and maintaining business all boils down to advertising, whether that be on social media, in print, with business cards or just letting your work speak for itself by word-of-mouth. But one method that has begun to flourish in the landscaping industry is vehicle wrapping.
Popular opinion says that one of the best ways you as a business can advertise your services is by putting your name, number and other information on the very vehicles you use in your comings and goings, but be aware that there are some cons to this type of advertising.
According to a study conducted by the Outdoor Advertising Association of America (OAAA), most vehicle wraps reach between 30,000 and 70,000 people every single day, and vehicle wraps outperform billboards and radio greatly.
Here we've identified the top pros and cons for vehicle wrapping, as well as some basic information on pricing, application and more. So take a look before you decide if it's something you are interested in for your business.
What are they?
Vehicle wraps can come in all different shapes, sizes and colors. They originally start as a large sheet of vinyl film with an adhesive back designed specifically for application on vehicles; these are available in a variety of styles and finishes. These wraps can be designed with images, photos, specific brand elements, text and graphics all to advertise your business.
Pro
Increased exposure
Obviously, having your company's name, logo, number and more on the side of a vehicle will give you a great amount of exposure. Depending on the amount of time you spend traveling to job sites, and on the size of the area you service, studies have indicated that you could have thousands of people noticing your ad per day. When you and your crew are stopped at a stoplight, this also gives passersby the chance to notice your unique vehicle and take a closer look.
Con
Your brand is always under scrutiny
While it may be nice to have such a huge advertisement at your disposal, it also serves as an easy way for people to recognize you for any negative aspects that might arise. People tend to pay more attention to vehicles with advertisements on them, which means your company will be under more scrutiny while on the road and out in the community. Be sure to stress to your employees the importance of obeying traffic rules, especially when operating the company's vehicle. Even something as simple as not using a turn signal can keep potential customers at bay, so be sure all of your employees are well aware of the responsibility that comes with driving the company vehicles.
Pro
Prolonged and exclusive advertising
Vehicle wraps are still considered a fairly new method of advertising; therefore, they should still grab a lot of attention from passersby on foot and on the road. Having your business vehicles wrapped also gives you the exclusive right to advertise. When taking out ads in newspapers and billboards, you will be forced to share the space with other companies, some of which might be offering the same services as you. Using print ads and billboards will also require a monthly fee, whereas purchasing vehicle wraps is one upfront fee with possibly a few repair fees along the way.
Con
Large upfront cost that may not be worth the price in some areas
Before deciding on using these wraps, consider your location and whether or not you will have viewers to really get enough bang for your buck. If you are located in a small town, word of mouth, social media and a more traditional media approach might be better options. If you live in a larger area but don't use your vehicle that often, other forms of advertising might be more prudent. Once you do make a decision, price is the next thing to consider.
When it comes to wrapping vehicles, it can typically cost thousands of dollars. It's hard to give a ballpark estimate on the pricing because the price depends on what type of film you choose, how much of the vehicle is getting wrapped and the number of vehicles undergoing the process. But a complete wrap will include door jambs, sills and door frames; a partial wrap doesn't include the jambs, sills and door frames and is cheaper than the full coverage option.
Pro
Vinyl wraps are easy to remove and repair
The wrap itself is safe for vehicles and has not yet been seen to take the paint off vehicles, however improper installation/removal can certainly damage the paint. Always have the process done by a professional to prevent any kind of damage to your vehicles. Most wraps are installed in small sections to ensure they are easy to remove if need be. If changes to the design are necessary, the technician can replace any panel that needs it.
Con
Your wrap may not last as long as the technician claims and won't stick to every surface
In order for the vinyl wrap to cling to the vehicle the way it's supposed to, the vehicle must have a factory paint job and have no major damages. Older paint jobs or places with multiple dents will keep the vinyl from clinging properly, and this will cause warps and wrinkles on the ads.
The life span of the wrap really depends on how well taken care of it is and how much daily stress it gets from driving. The quality of the film used during installation can affect the longevity, and thicker films are usually able to withstand more damage. Some have been said to last over five years without needing to be replaced or fixed. The environment in which you live and work will also affect how long these wraps will last. In areas with a lot of sun and rain exposure, the wraps could become warped or faded over time.