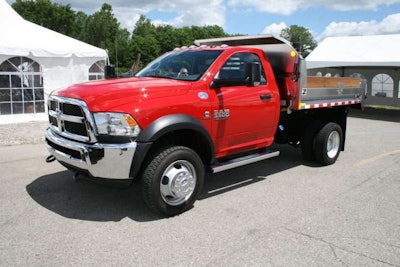 Ram's chassis cab brand manager, Adrian Ratza, recently talked to Hard Working Trucks about their biggest heavy-duty truck, the Ram 5500 chassis cab.
New for model year 2018, Ram's top workhorse will get PTO configurations for both left and right sides in either 4×2 or 4×4 models.
"We take a lot of pride in the number of PTO configurations that we have," Ratza says in a video interview posted below. "It's going to make life a lot easier on an upfitter with all of the different configuration availabilities we have with that."
Also new for 2018 include upgraded radio options with the addition of Android Auto and Apple CarPlay.
"We're really stepping up our game regarding connectivity," Ratza said.
Available engines for 2018 remain unchanged: the Cummins 6.7-liter turbo diesel (325 horsepower, 750 lb. ft. torque) or the 6.4-liter Hemi gas (410 horsepower, 429 lb. ft. torque).
"From our Class 3, 4 and 5 line-up, our gas engine has been phenomenal for us. If you want to talk about best in class claims, our 6.4-liter Hemi has it all over the place," Ratza said.
Transmission choices include the six-speed manual G56 or the Aisin Heavy Duty 6-speed automatic.
Other powertrain-related options include an engine shut-down timer, single alternator (up to 220 amps) or dual alternators (choice of 380 or 440 amps) and max speed settings at 65, 70 or 77 mph.
Ram provides some options in moving their heaviest truck down the road. Available axle ratios are 4.44, 4.88 or 4.10.
"This is 19,500 GVW, so this is as heavy-duty as it gets for Ram trucks," Ratza said.
The 2017 Ram 5500 featured in the video below is equipped with a Monroe dump body. The interview took place at FCA's Chelsea Proving Grounds.
EDITOR'S NOTE: Tom Quimby is the associate editor of Hard Working Trucks, another Randall-Reilly publication. Reach him at tomquimby@randallreilly.com. Follow him on Twitter @tom_quimby.