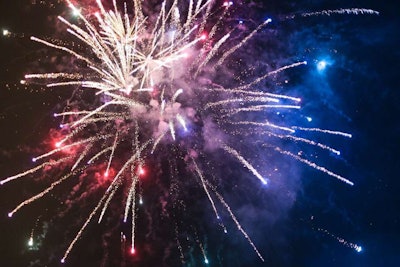 While the rockets' red glare and the bombs bursting in air are always good fun to watch, when homeowners take pyrotechnics into their own hands, things can become dangerous so pass on these firework safety tips below to your clients.
According to the National Fire Protection Association (NFPA) in a typical year, Independence Day fireworks account for two of the five of all reported U.S. fires, more than any other cause of fire.
On average each year, the NFPA reports fireworks start 18,500 fires, including 1,300 structure fires, 300 vehicle fires and 16,900 outside and other fires. These fires cost $43 million in direct property damage and on average result in three deaths and 40 injuries.
Forty-seven of the 50 states permit the use of consumer fireworks, but the definition of what is considered "consumer" varies from state to state. Your customers can check out their local laws here.
The National Council on Fireworks Safety advises the following tips:
Obey all local laws regarding fireworks.
Read cautionary labels and performance descriptions before igniting.
A responsible adult should supervise fireworks at all times.
Alcohol and fireworks do not mix.
Wear safety glasses when shooting fireworks.
Light one firework at a time and then quickly move away.
Fireworks should be lit outside away from buildings and vehicles.
Never relight a "dud" firework. Wait 20 minutes and then soak it in a bucket of water.
Always have a bucket of water and a connected water hose nearby.
Dispose of spent fireworks by wetting them down and placing them in a metal trash can away from combustible materials.
Ensure all pets and animals are away from fireworks noise.
Don't point fireworks at people.