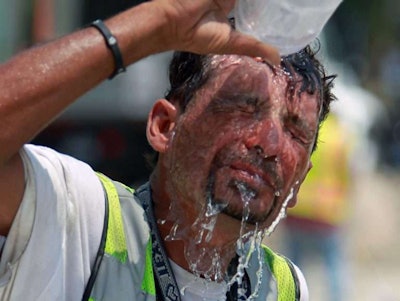 When temperatures hit 90 degrees-plus, landscapers start looking for all kinds of ways to stay cool.
They might even be tempted to search for gadgets that could give them some relief. Products promising relief from the heat abound, ranging from the low-cost sponge to fit inside a hard hat to cooling vests that can cost hundreds of dollars.
Headwear
Cool Hard Hat by Cool Hard Hat Inc.: The hard hat comes with an internal fan powered by four AA rechargeable batteries. It blows 10-plus cubic feet of air across the top of the head, the company says. Cost: $50.
The Head Cooler Insert by Cool Hard Hat Inc.: The same fan used in the Cool Hard Hat can be inserted inside your own hard hat. It also blows 10-plus cubic feet of air per minute on top of the head. It is attached with Velcro straps. Batteries operate up to eight hours before needing to be charged, the company says. Cost: $33.
Cordless Helmet Fan by Makita: The battery-powered fan attaches to a hard hat with an elastic strap. The fan provides air into the helmet or onto the back of the neck. It is powered by a rechargeable 14.4-volt or 18-volt lithium-ion battery. The company says it works for 10 hours at high speed and 20 hours at low speed on one battery charge. Cost: $35 (battery and charger not included).
Solar hard hat/helmet with fan and LED lights by Portable Solar Shop: A small fan cools the inside of the hard hat, which also has an LED light powered by a built-in rechargeable battery. The fan works automatically with direct sunlight, the company says. Cost: $60.
Chill-Its Hard Hat Brim with Shade by Hi Vis Supply: The elastic inner rim is designed to fit hard hats and the polyester shade blocks the sun. Cost: $8.45.
Snap-on Hard Hat Sweatband by OccuNomix: The terry cloth sweatband attaches to the hard hat suspension with snaps and is designed to absorb and wick away sweat. Cost: $2.70.
Sponge Sweatband by Hi Vis Supply: The cellulose sponge attaches to the forehead under a hard hat with an elastic band to absorb sweat. Cost: $9.99 for 25-pack.
Miracool Hard Hat Pad by OccuNomix: The pad fastens with hook and loop and rests in the interior middle of the hard hat. It is designed to allow air movement inside the hat. Cost: $4.50.
NoSweat by NoSweatCo: This disposable liner, which can be put in a hard hat, is made of "Dri-Lid technology" to wick away sweat from the forehead, keeping it from your face and eyes. The company says it has 12 National Hockey League teams as customers. Cost: $4.99 for three-pack.
Neckwear
Neck Shade by OccuNomix: Made of cotton, the neck shade can be worn alone or under a hard hat to protect from the sun. It has a terry cloth sweatband at the forehead. Cost: $3.50.
Miracool Neck Bandana by OccuNomix: The cotton bandanna is soaked for 30 minutes in cool water and then worn around the neck. The company says the bandanna stays hydrated for several days and is reusable. Cost: $6.90.
ML Koshigo Brisk Cooling Neck Protector by Hi Vis Supply: The protector attaches to the inside or outside of a hard hat. First, submerge it in water for 1 to 2 minutes and squeeze out excess water. The company says cooling lasts 5 to 10 hours. Cost: $14.99.
Neck Band by Texas Cool Vest: The band uses the same technology as the company's cool vest (see below) to keep its temperature at 65 degrees, the company says. Cost: $19.95.
T-Shirts
Illuminator Class 2 Black Bottom T-Shirt with Segmented Reflective Tape by Galeton: The lightweight shirt is made of wicking fabric with underarm side panels for additional ventilation. Cost: $11.45.
GSS Safety Reflective Safety T-Shirt by Hi Vis Supply: Made of breathable and moisture-wicking polyester mesh. Cost: $12.49.
Vests
Kangaroo Mesh Vest by Blaklader: The vest features front and back mesh fabric. It also has pockets for a phone, pen and nails and has a side hammer loop. Cost: $59.95.
ML Koshigo Ultra-Cool Mesh 3-Pocket Hi Vis Vest by Hi Vis Supply: Made of polyester with a zipper front, the vest also features an outside left chest radio pocket, an inside right chest pencil pocket and a lower inside left patch pocket. Cost: $9.75.
Miracool Cooling Plus Vest by OccuNomix: The vest is made of a polyester shell with cotton lining and has mesh shoulders and sides. OccuNomix says it provides up to 8 hours of cooling relief. It is soaked in water 1 to 2 minutes to "activate polymer crystal technology." Cost: $48.50.
Water-Activated Evaporative Cooling Vests by Polar Products: These vests can be submerged in cold water or chilled in a refrigerator or freezer for working in low-humidity environments. Cost: $42 and up.
Miscellaneous
ML Koshigo Ultra-Cool High Contrast Mesh Pants by Hi Vis Supply: Made of polyester mesh. Cost: $22.
3-in-1 cooling pad by OccuNomix: The cotton pad is soaked for 10 to 20 minutes in cool water and squeezed dry. Then it can be placed on the back of a hard hat to cool and shade the neck, placed inside the hard hat as a pad to keep the head cool, or attached to the back of a vest. Cost: $10.90.
EDITOR'S NOTE: This article was written by Don McLoud. McLoud is the managing editor of Equipment World, another Randall-Reilly publication. Reach him at DonMcloud@randallreilly.com.