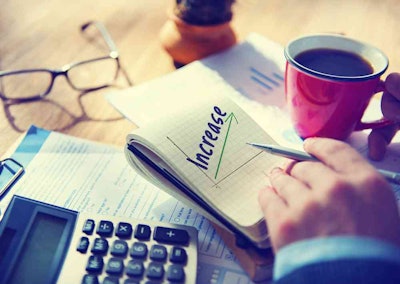 In the business world it's essential to keep in mind the importance of moving forward.
With the daily speed in which the world is changing, keeping up and getting ahead can seem difficult, but with a few key tactics under your belt, the process can be simplified.
Whether you're starting your own business or you've been in the green industry for years, take a look at a few tips that can lend a hand in growing your landscaping business.
Use available resources
Whether you think it will benefit your business or not, take advantage of resources that come your way. This includes free workshops, classes and seminars.
Get more of your company involved in these events as well; you never know when someone may pick up a useful piece of information.
The temptation is to say that you and your workers are too busy to engage in such activities, but that one course you take could be the difference between you beating your competition or falling behind them.
Don't feel like you have to go to every single class that's offered, but keep in mind that even going to one or two a year can make a tremendously positive impact on your business.
Be sure that while attending these events you try not to spread your attention too thin. It will also be tempting to try and take in every single topic that's covered, but realistically look at each and determine which ones are the most applicable to you and your landscaping company.
Once you've decided on which topics you can take back to your employees, meet and discuss these matters as a group. This keeps everyone in the know and helps ensure accountability and follow through.
Continuing education courses are also a great asset to take advantage of. Even if you only send one or two employees to these workshops, they can the take the information they've learned and spread it to the rest of the employees.
As an added bonus to employees who do attend these courses, their resume will be boosted by attending these workshops.
Find a mentor
Mentors are helpful no matter where you fall on the chain of command, and either having a great one or being a great one can really boost your business.
Mentorship is important in any relationship, job or company and landscaping is no exception. While you may find it easier to go it alone some days and do your work solo, it's important to remember that there is always something new to learn if the right teacher is found.
Whether you're starting a new job or business, or looking to grow and expand your existing company, the guidance of a mentor can help boost professional and personal growth and success.
Learning with and from a mentor can not only help you with your work experience, it can also open doors for you in the world of networking, your mentor can help give you more guidance in your craft and from that guidance you gain more confidence to strive for excellence each day.
As an employer, being a mentor is just as important.
"Whether they show it or not, your team members crave your validation and encouragement," says Alison Blobner, director of marketing and sales for LandOpt. "They also crave – and need – your guidance. When you make yourself available as a willing mentor for your team members, you unequivocally demonstrate your commitment to their growth."
Blobner says that the healthiest cultures are the ones in which every individual feels supported and knows the expectations and responsibilities of his or her roles.
For more information on the benefits of mentorship, click here.
Networking and relationships
Whether you realize it or not, networking is fundamental and is one of the most important factors in professional success.
The relationships that emerge along your career path are some of the most vital ones you can establish, and participation in professional organizations is one of the best ways introduce you to these new and important connections.
Getting involved in your local and national organizations can help you see what other industry professionals are doing to grow their businesses, and it also can help you learn what practices are outdated and need to be dropped.
Along with developing positive networking opportunities, remember that keeping strong relationships with your dealers should be a top priority as well. Dealers are your lifeline when it comes to equipment, so keeping them on good terms with you is important.
Gain and keep your employees' trust
Any business tycoon will tell you firsthand that without the help and support of dedicated employees, nothing will be accomplished. Business isn't a one-man show, so don't treat it like that.
It's no secret that finding dedicated and qualified workers for the landscape industry is no easy task, and establishing relationships with your employees is important to creating a positive and thriving work environment.
"When you show your employees that you are deeply and genuinely invested in their success, largely because you remember what it was like to be in their shoes, you foster a culture that values effort," Blobner says. "You create a safe place for your team members to learn, grow and yes, make mistakes. When they fall – and they will from time to time – you extend a gracious hand, help them to their feet, brush the dust off their shoulders and give them a gentle nudge forward."
Have a plan
Having a plan of where you want to see the business go and how you want to see it grow is imperative to being successful.
You need to have a clear idea of what you have to offer the market, who you need to sell it to and how you need to go about talking with these customers. If you try to go in with no plan and no practice, the outcome may not be what you'd hoped it would be.
"Know your competition, what your competition is doing and why they're successful or why are they not successful," says Robert Velazquez, founder of Semper Fi Land Services in Aurora, Illinois. "Then just focus on one thing that you want to do and just be really, really good at it."
Velazquez has put these tips into action in his own company and can say from experience that while there may be ups and downs along the way, learning from both the wins and losses will build your business up.
For more information on Velazquez's story, click here.
Make good equipment investments
It probably goes without saying, but sometimes you have to spend money to make money. When it comes to investing in equipment, that's sometimes the motto to stick with.
Whether you think you'll need a certain piece of equipment or not, try to plan for the future as much as you can, within reason. Even if your company isn't doing a particular type of work now doesn't mean it won't sometime soon. Only purchase non-necessary machines if your research shows there's a market for it, and if it would benefit your company by ultimately justifying the cost the machine.
Keeping a good idea of what your company currently offers and what it has the potential to offer is important when choosing what to add to your inventory, but also be careful not to get carried away.