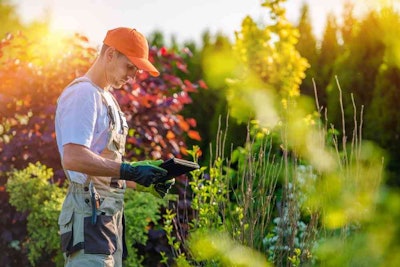 Many of your customers may think that spring is the only or the best time to start planting, but that's not always the case.
Fall is one of the best times to take care of the landscape with fertilizing practices, adding in bulbs, sowing grass seed and more.
Along with being an excellent time for planting, fall is the perfect time for you to begin assessing your customers' gardens to determine what practices were successful and what could use some tweaking.
Take stock of what you're working with
The first step in this process is to take a look around your customer's garden and note what you see.
Observing what has and hasn't worked out over the season, which plants thrived and which failed or look distressed can help give you a more accurate idea of what should and shouldn't be planted next year.
These findings can be written down or even photographed and saved for later use.
Be sure to keep a running list of what plants grew well for you, and consider adding in more of that particular type to offset the ones that did not do so well. Or take plants similar to those that thrived and intersperse them in to help add a bit more life back into the landscape.
On the same note, be sure to write down which plants didn't do well so the same mistakes won't be made next season.
After examining the landscape, take time to consider where each plant is located. Did it maybe not thrive because of where it was planted, or were there other factors that came into play?
For plants that ultimately ended up in the wrong spot, take advantage of this time to transplant old plants that may still be surviving, or to plant new ones around.
While checking out the success rate of the plants, be sure to also note combinations that did and didn't work well together.
If they did not do well together, do a bit of research and see if you can uncover the reason why. Be sure to stress to your customers that just because they may like the look of two plants doesn't mean they belong in the same area together. Just because two plants initially seem aesthetically pleasing doesn't mean they will live and thrive together.
At the end of the visit, take time to talk with your customers about what's next. Think about ideas for the next project, what can be replaced and what can be improved on.
Why plant in fall?
Once you've had the chance to assess your customer's landscape, the next step is to decide what can be planted later and what planting can take place now.
As previously stated, fall is one of the best times of the year for planting, and it comes with multiple benefits the other seasons don't typically offer.
With the cooler weather slowly moving in, gardening outdoors for extended hours won't be as grueling as in the summer months.
Likewise, the plants won't have the extreme heat to deal with, and they can get the benefit of occasional autumn showers.
Cooler weather also means there are fewer insects, pests and weeds, since seeds are less likely to germinate in the fall.
Even though the temperatures may be shifting, the warmer weather played a great part in keeping the soil warm, which provides an ideal planting environment for roots to thrive underground.
The warmer the soil is, the more vigorous the roots will grow. This can lead to healthier plants the following summer when the water supply may be limited. Deeper roots also do a more effective job of absorbing nutrients that can eventually turn into flowers, fruits and attractive leaves being produced.
Since nursery specials typically run at the end of summer and beginning of fall, now is a great time to get better deals on perennials and shrubs since their roots will thrive better in the cooler weather.
Another important aspect of fall planting is getting rid of plants that are well past their prime. If a plant isn't doing well and there's no way to save it, it's got to go. This helps make space for other plants, and it helps churn the soil up a bit.
Spring is typically the most popular season for planting flowers and bulbs, but there are a few bulbs that actually need to be planted in the fall or early winter to yield results.
Some spring-flowering bulbs, like daffodils and tulips, have to be planted in either fall or early winter because they require a long period of cool temperatures to spark the biochemical process that will then cause them to flower. This will give them enough time to develop strong roots and give them more of a fighting chance come spring.
For more information on fall bulb care and growing tips, click here.