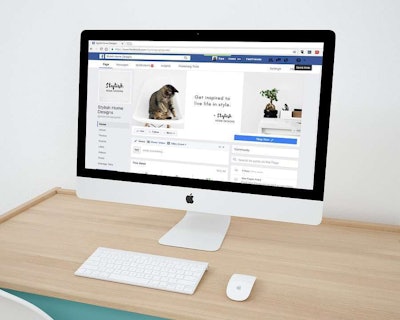 This post is the third of a multi-part series on social media marketing.
First, we covered the mentality business owners must have towards social media, establishing that social media is a long game, and that business owners cannot think of social media in terms of direct sales.
Then, we covered which platforms are available to landscapers, and how business owners should choose just one social platform to focus on.
Today we're going to give you ideas on what you should be sharing on social media in order to reach and engage your audience.
Jabs and right hooks
Perhaps the best analogy I've found for how to think about social media comes from Gary Vaynerchuk. Gary is an entrepreneur, CEO of Vayner Media, a best-selling author and an angel investor in many startups, including LawnStarter.
His philosophy: Jab, Jab, Jab, Right Hook – which also happens to be the title of one of his books.
This mantra refers to the cadence of how you interact with an audience. To quote Gary, "Jabs are the value you provide your customers with: the content you put out, the good things you do to convey your appreciation. And the right hook is the ask: it's when you go in for the sale, ask for a subscribe, ask for a donation."
Most of what you share on social should be 'jabs,' giving value to your audience. Right hooks are what you earn after a series of jabs. Most of what you share should be jabs; if you only do right hooks (like most small business owners do), your audience will tune out.
What follows is a list of jabs and right hooks that you can use for your business. These are intended to be inspiration, not prescription. Pick and choose what you feel you can execute on, and feel free to modify them or come up with your own.
How-to guides
Written how-to guides are a great way to give value, build authority, and educate your customers.
Additionally, there are almost infinite topics you can write about:
How to establish a new lawn in your region
How to install a French drain
How to aerate your lawn
How to deal with common lawn pests in your region
And the list goes on.
Some business owners worry about giving away information for free. After all, the business owner is supposed to be paid to do this, right? Wrong. Sure, some may use your guide to do a project themselves, but they were never going to hire you anyway.
Rather, a how-to guide is a chance for you to show your expertise in a given area. Additionally, the guides give you a chance to educate your customers on what services they need, without appearing salesy.
It's important to maintain a balance of being authoritative while also writing for your audience's level of knowledge. You may have a masters in horticulture, but your reader probably doesn't know that much about the subject, so keep that in mind. It may help to interview customers or to survey readers to learn about their knowledge level so you can produce content that fits their needs.
You can include subtle call to actions to your services. If you read through LawnStarter's definitive lawn care guide, you'll notice that in no place do we tell the reader that they cannot do it themselves. We do, however, gently remind the reader on the right that we offer services, without detracting from the reading experience.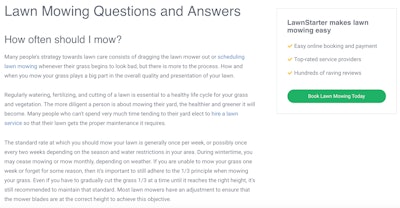 Bios of your crew members
People love to get to know other people.
Doing a bio of one of your crew members, their story, their family life, etc., is a way to create a human connection between your business and your customers. Most of your customers probably don't get much of a chance to interact with the crew members.
Sharing bios is a way to make customers feel good about the people their money is going to support. See this example from Brook Lawn Services in Indiana.

Video questions and answers
Nearly all social media platforms support video natively, meaning users can watch video without leaving the platform. Facebook, in particular, is known to promote video above other types of content.
While there are a plethora of ways you can leverage video on social media, the question and answer format has a number of advantages.
For one, Q&A is easy to do and does not require a high level of video production. You can do it at a worksite, in your truck, or at your office to add a bit of authentic flare. In fact, the lack of editing shows that you know your subject matter.
Additionally, it engages your audience, as you should be prompting questions when you post.
Finally, this gives your audience a chance to get to know you as a human.
See this video as an example.
Inspirational photos of completed work
Most social media platforms, notably Facebook, Instagram, and Pinterest, are visually focused, meaning that high quality photos do well.
Showcasing high quality photos of your work is a great way to entertain your audience, while also giving credibility to your business.
Let's be clear – this one is a 'jab.' The best way to ruin a post of high quality work is to caption it with something like 'Want your home to look like this? Call for an estimate today!' If the photo is good enough, your audience will think that without you prompting it.
Seasonal discounts
Offering a discount on a seasonal service is a great type of 'right hook.'
You are offering value in two ways: you're letting someone know that it's time for a seasonal service that will benefit them, and also offering them a discount on that service. All while asking for the sale.
The beauty of the lawn care industry is that upsells, when positioned correctly, are a benefit to your existing customers. Most customers don't know what their lawn needs, so it's up to you, the business owner, to let them know. In fact, one of the biggest requests we get from our customers at LawnStarter is to tell them what services they need.
Make sure to include a clear call to action, for example filling out a lead form on your website or calling your phone with a discount code.
What types of content have you found to get engagement on social media? Let us know in the comments below.
Check out part one, part two and part four of this series.
EDITOR'S NOTE: This article was written by Ryan Farley, co-founder and head of marketing for LawnStarter Lawn Care, an online and mobile platform that connects homeowners with lawn care professionals for care-free and efficient services!