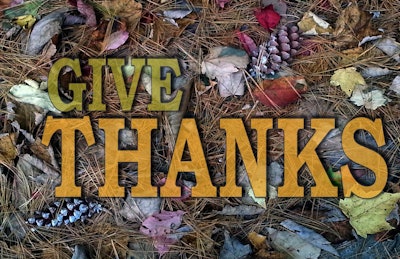 Thanksgiving is a holiday for feasting and family, and as we hope you are having a nice reprieve we thought we'd share some things you can be thankful for this holiday season.
Good employees
Employees are the lifeblood of your company and they are generally the face that both current and potential customers encounter on a regular basis. By having employees with a strong work ethic and valuable skill sets, you can trust them to get job done without having to micromanage, freeing you from becoming overwhelmed.
Companies like The Greenery Inc. turn to their employees to find other quality workers. It is also owned by the employees who are proud to take care of the business.
Loyal customers
Having repeat customers is a blessing because you can count on them for not only regular cash flow, but their referrals of your company to their friends and family. By treating them right and ensuring you do a good job every time, they are more likely to spread the word about your business when someone asks them why their property looks so beautiful.
Growing industry
According to IBISWorld, the landscaping industry has an annual revenue of $99 billion with an annual growth of 4.4 percent. A healthier housing market and growing disposable incomes have encouraged many homeowners to invest in their property. Residential construction is also expected to increase over a five-year period, so things are definitely looking up from the recession.
Helping the environment
Whether sustainability is a major focus of your business or not, you are helping the environment by creating pollinator habitats, planting pollution-reducing trees or installing permeable pavers that reduce stormwater runoff. Even by simply educating your clients on how to avoid wasting water by installing more efficient smart irrigation controllers, you are making a positive difference.
Leaving a legacy
Not everyone has a job where their work will be remembered or even appreciated five or 10 years from now, but with landscaping, you have a chance to create a living green space that will be appreciated for years to come.
"Anytime I plant a tree for municipalities, you're leaving a legacy," says Stacey Marcell, owner of Northeast Horticultural Services, based in Stratford, Connecticut. "That feeling of satisfaction that I am leaving a footprint is very exciting. I do it for the legacy. It's great to install a landscape but it's even better when you maintain it and see it mature and look great for years to come."