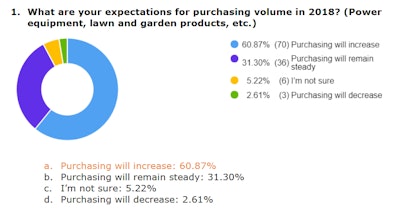 During the 2017 GIE+EXPO back in October, green industry companies both big and small gathered from around the country, and TD Bank took advantage of this opportunity by conducting a poll.
The bank had 115 retailers participate in its survey, and the poll touched on topics such as the greatest threat to the industry overall and their predicted employee growth in the next 12 months.
Mike Rittler, head of Retail Card Services at TD Bank, shared his interpretation of the findings.
Of the given choices for the greatest threat to the lawn and garden/power equipment retail industry, 31.47 percent said that rising employee wage requirements posed the greatest threat. Some of the other options were regulation, decrease in consumer demand, inventory constraints and rising interest rates.
"One of the biggest costs is going to be the variable selling cost of selling equipment, and that's fully dependent on what you're paying your employees. So that being the larger variable costs in there that can squeeze margins, if you will, to levels that can make it not attractive to be able to sell that equipment," Rittler said.
Despite this being the respondents' highest voted risk, 54.78 percent said that their workforce will grow in size over the next 12 months.
"I thought it was interesting that that (higher employee wages) was on their mind but yet nearly 55 said they see their workforce growing over the next 12 months," Rittler said. "I don't think it's quite on their minds as much as they think because, again, to be able to continue to grow you need to have a sales force and a work force that can sustain the volumes that you're going to be driving in. I think it's a little bit of a balance there, making sure that you keep wages competitive, that you get folks in that can really help you move equipment and growing to meet your customer demand."
Most retailers (43.38 percent) aren't concerned with rising interest rates affecting their sales, but 37.39 percent said that it will negatively impact sales.
Rittler thinks that financing can come into play as a key component in situations where landscapers cannot afford the one-time lump sum purchase price. Only 19 percent of respondents said that they did not offer financing options.
"The big win is it should help drive additional buying, or help people get over that hurdle of understanding how they can pay for a purchase," he said.
A little more than half of the respondents (52.17 percent) said they didn't offer customer loyalty programs, and Rittler said this is a bit of a lost opportunity as any sort of loyalty program, whether it be a traditional one or a simple financing option, can help drive customers back to their brand.
"At TD, we really view it as being our job to be able to help put the plans in place that will help drive consumer engagement with what you're trying to sell," he said. "So, what are the plans that will speak to your customers that'll help?"