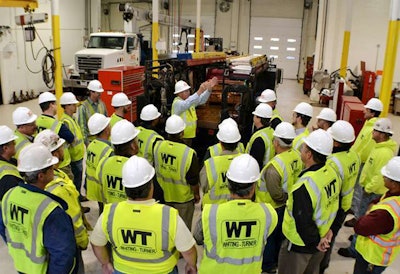 When preparing material for your toolbox talks, it's best to tailor the current training to the job at hand. Aligning your safety training information with the situations your crews are facing on the jobsite will help to keep pertinent safety tips not only at the forefront of the discussion, but also in your workers' minds.
So, even if you have scheduled monthly and annual safety training using materials from your insurance carrier or other provider, your weekly toolbox talks will have to be scheduled according to the job. When looking for materials to use, it's helpful to note there is a range of organizations and entities that provide toolbox talks organized by topic, and in an easily downloadable format.
Here, for example, we have the Safety Watch series, a bilingual feature that examines an actual jobsite accident and discusses ways to prevent similar accidents. Safety Watch is organized by topic and is free to download.
Governmental agencies such as OSHA have a lot to offer with respect to safety training. With wide ranging resources, they are able to deliver training information you can count on to be both comprehensive and legally sound. Plus, the information is free. OSHA has a landing page for landscaping safety that covers a wide range of topics including falls, pesticide exposure, cold stress and more.
Don't discount state entities as a source. Many state DOTs have downloadable resources, as well. The state of Washington, for example, has a year's worth of toolbox talks available, along with discussion points and tips for supervisors on conducting the training. The Texas Department of Insurance has dozens of free downloadable toolbox talks and fact sheets available in both English and Spanish.
Industry organizations are also a good source. The National Work Zone Safety Information Clearinghouse, an ARTBA project conducted in cooperation with the Federal Highway Institute and the Texas Transportation Institute, has a landing page with a variety of work zone safety training information, as well as other topics such as high visibility clothing and sprain prevention. The Center for Construction Research and Training has developed a series of handouts and toolbox talks on topics ranging from aerial lifts to workplace stress. The series includes case studies, discussion questions and site-specific actions.