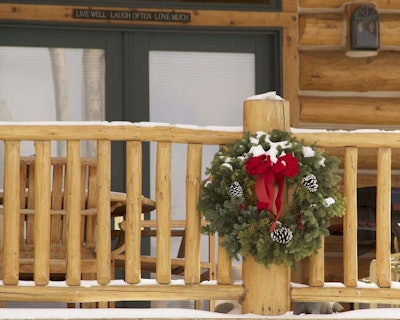 The holidays are when gift-giving and decorating abound, but in recent years, people have been looking for ways to reduce their wasteful ways that tend to come hand in hand with the season.
According to Stanford University, Americans throw away 25 percent more trash from Thanksgiving to New Year's, equaling 25 million tons of garbage or 1 million extra tons per week.
"While the winter holiday season brings good cheer for most people, it also brings a lot more solid waste to the landfill, harm to the environment, and additional debt to the average American family," Stanford University said.
In Durango, Colorado, Columbine Landscapes is trying to help households spruce up for the holidays while being environmentally friendly. While the company has been offering landscaping services for more than 20 years, this is the first year it is delving into holiday landscaping.
"It can really be a wasteful time," Brooke Hampton, holiday decorating manager for Columbine Landscapes, told The Durango Herald. "So we try to keep it simple and offer natural decorations, rather than plastic and things you throw away."
Aiming to cut back on waste, Columbine Landscapes buys its Christmas trees through the San Juan Mountain Association, a nonprofit that works to promote education and volunteerism on public lands along with the U.S. Forest Service.
The association targets selling white firs, which populate the understory of a forest and can become a high-priority fuel risk for the spread of wildfire.
"Removing those little white firs really helps reduce the chance of fires," Gretchen Fitzgerald, a forester with the Forest Service's Columbine District, told The Durango Herald.
The landscaping company sources its garlands from Native Roots Garden Center and it procures its wreaths from Mountain Belle Flower Farm.
Elaine Vidal, owner of Mountain Belle, says it's her first time participating in the holiday services as well.
"I'm pretty happy with it so far," she told The Durango Herald. "It's all low input in terms of zero chemicals, and it's all very fresh. And, it's very, very local."
After the holidays, homeowners are encouraged to recycle their trees and wreaths as mulch. The city of Durango even offers a drop-off center for this purpose.
"It's good for the environment, but it's also good for our own selves to be able to enjoy what the holidays are really about," Eva Montane, owner of Columbine Landscapes, told The Durango Herald. "And that's being with family and friends and honing in on why we celebrate it in the first place."
If your company is offering natural decorations or knows your clients are purchasing them, Clemson University warns that some wreaths with boxwood cuttings could be carriers for boxwood blight.
It was confirmed that wreaths containing boxwood cuttings from a single North Carolina nursery were infected with boxwood blight, and so far, the sales have spread throughout South Carolina and as far away as Indiana.
"The good news is, it's not a lot of plants, it's just cuttings," said Steven Long, assistant director of Clemson University's Department of Plant Industry (DPI), said in a press release. "The biggest risk comes when people dispose of the infected wreathes after Christmas."
Long advises treating any Christmas wreath with boxwood plants as infected and should be burned or double bagged and sent to the landfill with other trash.
The wreaths do pose a threat if they are displayed outdoors.
"The disease moves readily when water is present, so wreaths that are very exposed to rainwater or raindrops would be risky to keep in place if they are near landscape plantings of boxwood," Long said. "The disease could move with the water right down into the landscape beds. In contrast, wreaths used indoors would be harmless."
The known infected wreaths sold from the nursery have been traced and removed, but is possible some of the infected material was bought and sold elsewhere.
"Boxwood blight can be tricky to identify," Long said. "The samples we found didn't look suspect, but they tested positive. Even expert inspectors can have a difficult time detecting the disease on stems and foliage, so the safe thing to do in this case is to treat any boxwood wreaths this season as if they were infected and dispose of them properly."