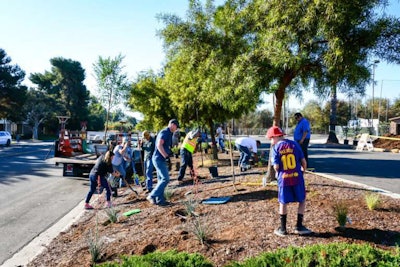 Due to the settling of decomposing organic matter, the playing surface of William Bradley Park's Field No. 3 in San Marcos, California, became uneven.
The playing surface receives significant year-round usage from an estimated 4,000 youth baseball, softball and soccer athletes. Since the field is frequented by a number of guests, it was decided that help was needed to keep this field from becoming a safety hazard.
Project EverGreen and Hunter Industries, along with the Southern California Sports Turf Managers Association and local landscape contractors and suppliers, came together to revitalize this space.
Valued at more than $31,000 in donated time and materials, Project EverGreen says this project is more than an aesthetic makeover for the playing surface. According to Project EverGreen, it represents and investment in the residents, especially children, who use the park on a daily basis.
"The young athletes and San Marcos residents are the real winners from this project," said Cindy Code, executive director of Project EverGreen. "The renovated field now provides a safer playing surface for participants, and the enhanced public areas deliver a healthy dose of green benefits to the community."
Gene Smith, vice president of marketing for Hunter Industries, explained not only his company's role in this project, but also the impact it will have on the environment and the community as a whole.
"Projects like this are important to Hunter because we are committed to giving back to the communities where we work, live and play," said Smith. "We want to create spaces where kids can come out and learn an athletic skill, be outside for the good of their health and enjoyment."
According to Smith, the project also delivered environmental benefits because of the addition of healthy turf, trees and shrubs to the community.
"Instead of having an area of open dirt or hardscape, we have biological materials that deliver a cooling effect and promote oxygen through carbon sequestration," said Smith.
To help provide a sustainable platform for future generations to enjoy and maintain the field, the renovation project encompassed a variety of elements such as:
Grass aeration
Weed control
Nutrients to improve grass health
Installed new sod to improve player safety
Field laser-level grading
Install infield clay soil mix
Install outfield warning track mix
Outfield top dress sand to fill in uneven areas
Field and shrub beds irrigation repair and re-alignment
New trees and shrubs bed planting
Mulching plant beds
Repair and paint ballfield dugouts, benches, fences and backstop
Re-seeding
Other project contributors included:
American Park Specialties
Barkshire Laser Leveling
Briggs Nursery & Tree Co.
Ewing Fertilizers
Gail Materials
Landscape Solutions
Mountain States Wholesale Nursery
Pacific Play Systems, Inc.
W. Gillibrand Co., Inc.
West Coast Arborists
West Coast Turf