Kubota Tractor Corporation recently introduced the new KX033-4 with an extendable dipper arm.
Kubota says the KX033-4 weighs in as a three-ton class machine and boasts the reach and dig depth of a heavier weight class. The company says the machine is ideal for hard to reach areas, and the optional extendable dipper arm can be quickly extended up to 31 inches. The machine also features a digging depth of 12 feet, 2 inches and a digging reach of 18 feet, 3 inches.
"The new KX033-4 with an extendable dipper arm is a new configuration to the existing KX033-4 compact excavator within Kubota's popular KX Series," said Jeff Jacobsmeyer, Kubota product manager, excavators, wheel loaders, TLBs. "The extendable dipper configuration now has comparable dig depth and reach of a larger class machine with the weight and footprint of a 3-ton machine."
Powered by Kubota's direct injection diesel engine, the company says the KX033-4's engine has the power to maximize digging and lifting performance while minimizing noise, vibration and fuel consumption.
With an auto-downshift feature that the company says automatically downshifts from high to low, the KX033-4 allows smoother operation when dozing and turning, according to the company.
When the auto-idling system is engaged and the control levers are in neutral for more than four seconds, the company says the engine will idle automatically.
Kubota adds that if the operator moves any lever, the RPM immediately returns. The company says that the standard auto idling systems lower noise and exhaust emissions, and also reduce operating cost and fuel consumption.
The interior is designed with a larger entrance, enhanced ergonomics and more leg room that simplifies routine operations. The company says that operators will enjoy the easy-open front glass windows, cup holder, deluxe suspension seat, air conditioning and wrist rest.
The company says that the large, easy-to-read digital panel is user-friendly with simple settings and push-button operations; Kubota says the display is part of Kubota's Control System and puts information at the operator's fingertips.
Kubota says the KX033-4's user-friendly design includes access points for easy maintenance, and the excavator's engine components are consolidated onto one right side for easier access.
Additionally, Kubota says the rear and right-side hoods are made of durable steel panels and will open fully for quick inspection and routine maintenance. The company says that positioning the panel inside the counterweight's edge gives added protection.
John Deere introduces new 344L compact wheel loader with Articulation Plus
The new John Deere 344L compact wheel loader provides peak productivity for ag material handling, landscaping, construction and snow removal customers year-round, according to the company.
"We designed the new 344L to help operators get more done in the field faster than they have before," said Drew Miller, product marketing manager, compact wheel loaders, John Deere Construction & Forestry. "The 344L is a quick, nimble machine that is optimized for handling tight turns while maintaining heavy loads, helping customers focus on the task at hand and not having to manage the machine."
John Deere says the 344L offers a faster travel speed with smooth auto shift technology up to 25 mph, which the company says is ideal for customers who have larger job sites to traverse or for snow removal.
The company says that the Articulation Plus steering system on the 344L allows operators to lift more during turns than leading competitive machines. The design features an articulated frame plus rear-wheel steer, according to John Deere, which they say provides a tighter turning radius, additional lift capacity and improved stability.
Additionally, John Deere says the newly designed loader arms and coupler provide better parallel lifting of attachments and increased visibility, especially for operators using forks.
The company says that customers are able to lift heavier loads and keep more material in the bucket without making adjustments because of the full-turn tip load of 12,650 pounds.
The 344L has a new cab design that features an air-ride, high-back seat that is said to reduce operator fatigue, while heating features keep workers in cold conditions focused on the job. This machine is also equipped with pivot and rear oscillation to provide a smoother ride.
The company says that a redesigned engine layout and cooling package increases uptime and provides increased airflow for superior cooling, reduced debris penetration risk and easy access to ground-level service points.
John Deere says that reversing fan capabilities keep customers in high-airborne-debris areas running longer, and they add that the new FT4 Deere engine offers outstanding serviceability.
The company says that operating costs are reduced with proprietary shift logic by using a better retaining material with smooth shifts and decreased operator fatigue.
Tire life is extended with rim pull control, and the company says this allows customers to adjust the torque of the machine to the conditions of their job sites.
John Deere adds mid-frame models to G-Series skid steers
John Deere says its new G-Series mid-frame skid steers and compact track loaders (CTL) offer a powerful tool for jobs of any scale. These machines were developed from customer feedback, and the company says the 320G and 324G skid steers and the 325G compact track loader offer low daily operating costs, maximum uptime and peak productivity.
"The mid-frame G-series models are packed with the productivity and technologies of our large-frame models, but in a more compact package and at a lower price point," said Gregg Zupancic, product marketing manager, skid steers and compact track loaders, John Deere Construction & Forestry. "Inspired by extensive feedback from a diverse range of customers in our Customer Advocacy Group, these machines are affordable, easy to operate, easily transported and offer unparalleled versatility with a multitude of attachment options."
Boasting a 69-74 horsepower range to deliver increased performance and higher pushing power, John Deere says that all three mid-frame models are capable of loading a 10-foot sidewall dump truck or hopper. The company adds that the 324G skid steer and 325G CTL boast a height to hinge pin of 10 feet, 6 inches to help operators reach new heights in a medium-sized package.
John Deere says that breakout forces and auxiliary flow provide superior attachment performance, while optional ride control and bucket self-level combination reduce material spillage and make for a smoother ride over rough and uneven terrain.
The company says the new models have the same pressurized cabs of their large-frame counterparts and are designed to keep out excess dust and noise, but are built with a smaller width and weight for contained job site areas.
The company says that cab enhancements include heated seats, Bluetooth radio, a rearview camera and a deluxe LED lighting package that provides increased durability and 50 percent more visibility over standard equipped halogen lights.
The machines also feature a footwell clean-out that John Deere says makes debris management easier than ever, minimizing costly downtime. The company says that cab-side windows also remove easily for cleaning, and an in-cab boom lock-out system makes maintenance safer and more secure when the boom is raised.
Offering the same popular features as their smaller and larger G-series counterparts, John Deere says these mid-frames now include Yanmar FT4 engine systems. The company says that flexible control choices allow contractors to choose between standard manual foot and hand controls, (EH) ISO joystick controls switchable between ISO- and H-patterns and performance package options for adjusting drive system response, boom and bucket speeds or for setting creep mode on demand.
The company says that 4G JDLink Ultimate machine monitoring additionally provides real-time data and health prognostics to suggest maintenance solutions that decrease costly downtime and protect against machine theft, and remote diagnostics enable a dealer to read codes, record performance data and update software without a trip to the job site.
John Deere launches second annual Small Machines. Big Impact. contest
Because of the success of last year's contest, John Deere has launched its second "Small Machines. Big Impact." contest, which the company says encourages construction contractors, landscapers, farmers and rental industry professionals across the country to share how they would make a positive difference in their communities if they were to win a new John Deere G-Series machine.
The winner will receive his/her choice of a new John Deere G-Series skid steer or compact track loader (CTL) and one Worksite Pro attachment.
"The overwhelming response to last year's contest showed us just how many people are out there making a positive difference in their communities — from building a community pool, assisting with disaster cleanup efforts or creating a neighborhood garden," said Graham Hinch, division manager, John Deere Commercial Worksite Products. "We are honored to play a role in helping and inspiring more people to create an impact in their own neighborhoods in 2018."
Starting now and running until March 16, contractors are invited to submit an entry detailing the impact they would make in their community with the power of a G-Series skid steer or CTL.
A group of finalists will be chosen by John Deere, and public voting to determine the winner will take place June 4–24. The grand prize winner of the contest will be announced on July 9 at the 2018 John Deere Classic.
The winner will be able to select a model from John Deere's full portfolio of small-mid and large-frame G-Series skid steers and CTLs. Second- and third-place winners will win a yearlong lease on a G-Series skid steer or CTL from John Deere Financial.
"Winning last year's 'Small Machines. Big Impact.' contest had a huge impact on our small community," said Eric Moores, a high school building trades instructor in Woodbine, Iowa. "The Deere compact track loader is helping my students learn skills they can use for the rest of their lives, and the contest had a very unifying impact on our community as a whole. It has really made a positive difference."
EquipmentWatch announces Highest Retained Value Awards winners
EquipmentWatch recently announced the winners of the 2018 Highest Retained Value Awards.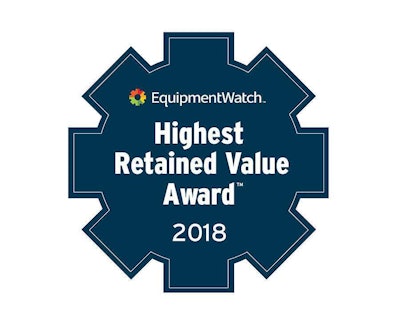 Thirty awards in total were presented and announced in Las Vegas, Nevada, alongside the first-day kickoff of World of Concrete. The awards program, which is in its third consecutive year, recognizes winners in construction, agriculture and lift/access equipment categories.
Two new categories were added this year: corn headers in the agricultural sector and tandem compactors in the construction sector.
"Retained value is one of the primary indicators of overall performance and reliability for any piece of heavy equipment," says Garrett Schemmel, vice president of EquipmentWatch. "We are proud to announce our 2018 winners—each of which represents a world-class product. Models that have received our Highest Retained Value Award should inspire buyer confidence in both new and resale equipment markets."
To determine the nominees for the 2018 Highest Retained Value Awards, EquipmentWatch said analysts considered more than 12,000 models with up to 20 model years of values.
2018 EquipmentWatch Highest Retained Value Award winners:
Award Ordering Info: Manufacturer name, model series, category, subcategory
Deere 9 Series
Balers
Deere 8R Series
Tractors, Large, Wheel
Deere 870 Series
Excavators, Large, Crawler
Deere 770 Series
Motor Graders
Caterpillar D5 Series
Dozers, Track, Small
Caterpillar 320 Series
Excavators, Crawler, Small
Caterpillar 980 Series
Loaders, Wheel, Large
Case IH 4400 Series
Corn Headers
Case IH Steiger Series
Tractors, Track
Case CX50 Series
Excavators, Compact Track
Case SV200 Series
Loaders, Skid Steer, Large
Volvo L90 Series
Loaders, Wheel, Medium
Volvo EC380 Series
Excavators, Crawler, Medium
Komatsu D65 Series
Dozers, Track, Large
Komatsu WA200 Series
Loaders, Wheel, Small
Bomag BW211 Series
Drum Compactors
Bomag BW120 Series
Tandem Compactors
Snorkel TB Series
Boom Lifts, Telescopic
New Holland B95 Series
Backhoes
Massey Ferguson 9500 Series
Combines
Kubota SVL Series
Loaders, Compact Track
JLG RT Series
I.C. Scissor Lifts
JCB 500 Series
Lift Trucks, Telehandlers
Hyster H Series
Lift Trucks, Warehouse/Narrow Aisle
Genie GS Electric Series
Electric Scissor Lifts
Challenger MT500 Series
Tractors, Small Wheel
Bobcat S100 Series
Loaders, Small Skid Steer Track
Bil-Jax XA Series
Boom Lifts, Articulating
Bell B30 Series
Rear Dumps
Apache AS Series
Sprayers, Self-Propelled