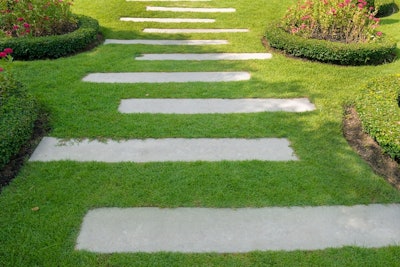 When you take a look at pavers in a landscape, sometimes you may see there are plants present in the gaps between them.
This is done for a number of reasons, whether that be to improve drainage or just add a bit more green to the hardscape. But whatever the reason, it does give you the chance to bring in a few new design elements to your customer's area, such as flowers, fragrances, and more.
Adding plants in between pavers can help soften hard lines and add a lush, living element to the hardscape's design, so keep the following tips in mind when exploring filler plant options and designs.
Plant types
When it comes to adding plants to a hardscape, always keep in mind the amount of foot traffic that will be coming through the designated area. Carefully consider the plant choices and the maintenance that will accompany them to help avoid falls, trips, and other safety issues.
Take a look at plants that are low-growing or be willing to frequently visit the site to keep these plants trimmed back, especially if they are planted on walkways, paths, and stairs. Be sure that any pathways that feature these plants and will be used are well-lit at night.
The height should range from basically flat to about 2 inches tall; anything taller can become a tripping hazard, and it can cause the pavers to look like they are sinking or drowning.
Generally speaking, the larger the scale of the paver, the taller the filler plants should be.
As for foliage, the groundcover should be vigorous but not invasive, and it should be dense to help smother any weeds that may be competing with plants and keeping the space from being easily accessible.
Whatever plants are chosen to go between pavers, they need to be hardy, tough, and durable. They need to be able to stand the occasional amount of foot traffic without being trampled to death, and they also need to require as little maintenance as possible.
On the subject of mixing in well with the overall design of the hardscape, naturally, they all need to blend together. The plants need to be able to meet the needs of foliage texture, color, and form, and they should also complement the colors and textures already present in the area.
What to plant
The number of plants that can work for this type of project is numerous, but there are a few simple ones you can start with.
For areas that see full sunlight, creeping thyme (Thymus serpyllum) has been called one of the best options for groundcovers and filling projects. This herb is petite, comes in multiple varieties, is fragrant, and is also attractively colored.
In areas that only receive partial sunlight, Roman chamomile (Chamaemelum nobile) is a popular option. This perennial is fluffy and gives off a meadow-like appearance. Boasting small, white daisy flowers, the plant will grow above the surrounding grass and give a delicate color pop. The potential downside to chamomile is that it will require moderate watering, and it will need to be trimmed after it flowers.
Shady areas can benefit from mondo grass (Ophiopogon japonicus), especially if your customers enjoy the thick, dark green carpet it produces year-round. This grass type can fit with almost any design or any kind of surrounding plants, and it is very versatile.
For more suggestions on which plants to use in different areas of the hardscape, click here.
Preparing the soil
Once your customers have decided they want to begin filling in spaces between pavers, it's good to know how to treat the soil in those areas.
For places with stepping stones, walkways, and flagstone patios, the pavers are often set on soil that's compacted, has a compacted base, or are on several inches of sand, which you know isn't always the best for planting.
If you want your customer's groundcover to be a success, you'll have to give the plants enough loose, nutrient-rich soil between the pavers. This will preferably be at least 6 inches deep to allow roots to grow and the gaps should be at least 2 inches wide.
If you decide to plant from flats, it's recommended that they are cut apart into 2-to-3-inch-wide pieces. Be sure that these pieces contain several plants and the roots, and space these pieces 6 to 9 inches apart in the area.
Any bare spots that are around should be covered with either light soil or compost that can help retain moisture until the plants begin to fill in the space.
After they are in the soil, the plants will need to be irrigated. This can be done by either running an in-line drip between the pavers, lining the path with micro-sprayers or just adjusting nearby sprinklers to cover the plants.
Different projects
There are many different design options your customers can choose from, and each style will allow you the freedom to get creative with plant choice, placement and more.
While the most obvious choice is to place plants in between stepping stones on walkways, there are more options at your fingertips.
For customers wanting to integrate plants into stairs, consider adding in succulents along the soil between each step to add a pop of color and draw visitors up and onto their next destination.
Since succulents thrive in sunlight, they will appreciate concrete steps that can reflect heat. If you see the succulents are beginning to develop offsets or tall stalks that can get in the way of foot traffic, just cut them and reroot the offsets.
For more design ideas, click here.