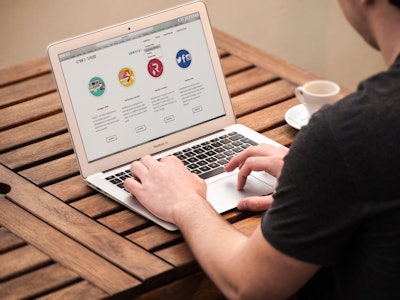 Your website can be a massive source of business for your lawn care and landscaping company if it's designed right.
It can also be a waste of internet space if it's missing the key components that convert prospects into customers. If you'd like to see your lawn and landscaping website generate more business, ask yourself these seven questions:
1. Does my website look good on mobile devices?
Mobile searches take up more than half of all online searches for local businesses. Responsive design is an absolute necessity for lawn and landscape business websites because consumers are not patient when it comes to mobile.
If your website is hard to read or looks "off" on a mobile device, know that your competitors are only a touch-screen tap away. Invest in mobile responsive design and you'll see more conversions from mobile searchers.
2. Is my website's content visually engaging?
Lawn and landscaping business websites need to have a prominent visual element because the industry itself serves consumers' need for visual appeal. Include high-quality images on your homepage and create a tab for a portfolio or photo gallery to showcase as many of your services as possible.
If your company does landscape design, having before-and-after photos is a crucial selling point that drives conversions. Videos are a powerful tool that are gaining popularity in the lawn and landscaping business. A video that shows your process, such as a high-speed time lapse of your team completing a project, will not only engage the viewer, but also give them a clear idea of what they will be paying for if they hire you. Professional photography/videography is worth the investment to make your website stand out from competitors and convert more visitors.
3. Does each landscaping service I provide have its own page on my website?
Most landscaping companies provide a wide range of services. Rather than list your services on a single page, break your services down into tabs and separate pages. If you serve residential and commercial clients, break those into two tabs with subsections for landscaping, hardscaping, property maintenance, fertilizing, irrigation, weed treatment, planting, seeding etc.
This will help you get found by potential customers on search engines because if someone searches, "commercial snow-plowing near me" you will have a much better chance of appearing in the search rankings if you have a separate page dedicated to that service, with a unique URL and SEO content.
4. Does my website provide valuable content that generates leads?
Many lawn care and landscaping businesses underestimate the power of strong web content when it comes to generating leads. Consumers and businesses that care about their lawns and landscapes search the internet for information on lawn upkeep, landscape design ideas, gardening tips, seasonal lawn care advice and more.
Your website is your opportunity to turn these searches into leads. Including a blog on your website that provides educational content will draw in potential customers by bringing them to your website, giving them valuable information and showing them that you are an expert on the subject they searched for. At the bottom of your blog posts, offer your services and include contact information.
5. Is my contact information clearly visible on every page?
Keeping consistent contact information visible on every page of your website is not only good for SEO but also necessary to maximize conversions. Give your prospects as many options as possible to contact you; some would rather call than fill out a quote request form, but that doesn't mean you shouldn't include both.
It is important to make your phone number a clickable button on your website so that consumers viewing it on a mobile phone can easily make the call. You should also include a map that indicates your service area on your "About" page or main contact page.
6. Are there clear 'Calls to Action' on my website?
Your CTA (Call to Action) is what prompts your website visitors to do something you want. You may want them to fill out a form, call you, enter their email address, take advantage of a new offer, etc., but you can't expect them to take these actions on their own.
Big, bold CTAs like "Lawn Maintenance, Weeding and Fertilization discount bundles available! – Request an instant quote" and "See the work we've done for our clients – View Our Portfolio" help lead visitors to the next step and encourage them to take action.
7. Does my website add credibility to my landscaping business?
When people arrive at your website, they will make snap judgments about the legitimacy and quality of your business. Whether you are viewed as credible or not depends on the design and content of your website. If your website design looks outdated or the copy contains spelling/grammatical errors, people won't take your business seriously.
A professionally designed, contemporary website adds credibility to your business because it shows that you are current and that you care about your company's image. To add more credibility to your website, include customer testimonials. A great way to make your testimonials more powerful is to make them into case studies. To do this, compile images of the project, including before-and-after photos, a short description of the services you provided and the customer's own testimonial. A page dedicated to case study-style testimonials should add enough credibility to your website to significantly increase your visitor conversion rate.
EDITOR'S NOTE: This article was written by John Kennedy, a copywriter and content marketing specialist at PlumDirect Marketing. His articles touch on innovative marketing advice geared towards small businesses of various industries, from landscapers to lawyers and everything in between. If your website needs a significant amount of work to get into optimum shape, Plum Direct Marketing can design you a beautiful website, built to convert customers, for an affordable price. Visit their website www.plumdirectmarketing.com or call 1-(800)-992-9663.