When crews are out on the job, completing paperwork while on the road is not high on their priority list, but LoadDocs can make the process simple and straightforward
LoadDocs is a logistics company that provides a mobile-first document and workflow management system for contractors.
Field workers can use the system to take pictures of essential documents from the job site and send them back to the office.
"It's a simple formula," said Brian Belcher, LoadDocs COO. "Speeding up the paper flow will speed up the cash flow."
Through the app, workers frame the document within the guides on the camera screen and the LoadDocs handles the cropping, rotating and adjusting image colors so there is a quality electronic copy.
The app can handle a number of industry forms, including bills of lading, safety forms, site checklists and expense reports.
In addition to uploading documents, field workers can attach photos, retrieve date and time details and add location information. Even if the employee is in an area with limited or no cell coverage, LoadDocs will store the images taken and will automatically transmit the documents when there is a stronger signal.
It also helps cut down on work time back at the office, as managers can use the system's optical-character-recognition technology to capture data from the electronic documents.
"Through artificial intelligence, LoadDocs can learn about the documents and data that the back-office is expecting to further automate the process over time," Belcher said.
LoadDocs is available on Android and iOS devices. Belcher says customers have flexibility with its license model, allowing them to pay monthly for their usage to align their costs with their growth.
Little Beaver offers adapters to match any brand auger
Little Beaver, a manufacturer of earth drilling equipment, is offering affordable adapters for its customers to match other brands of augers with its one-person earth drills.
Contractors and rental centers can now cost-effectively upgrade their drill fleets to Little Beaver. Customers are enabled to maximize the service life of their existing augers and attachments by not having to buy everything at once.
"Most rental centers and large fence contractors own multiple drills and stock a variety of augers and sizes," said Mike Hale, Little Beaver sales manager. "With these adapters, if a customer purchases a Little Beaver earth drill, they can use their existing augers without having to purchase all new augers."
The company offers a variety of adapters to accommodate nearly any competitive auger. Little Beaver's drills are suitable for fence and deck building, landscaping, soil sampling and more.
Little Beaver says that as a customer's stock of existing augers wears out, they can replace them with snap-on augers from the company. The options include standard, carbide and heavy duty.
A spring-loaded button secures each auger to the drill head and eliminates the need for pins or bolts. Little Beaver's reversible blades offer double the service life of other blades on the market and are easy to replace, according to the company.
Earth & Turf Products introduces new attachments
Earth & Turf Products has added new forks that fit the Category I 3-point hitches of compact tractors.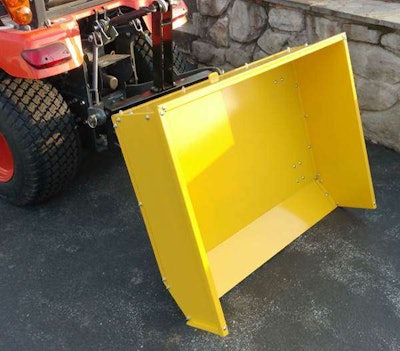 They are designed to be easy to install and to remove and the tines are attached by lynchpins, allowing the forks to pivot upward for space saving.
The upper link includes a hook so it can function as a sturdy log hitch and a receiver is built into the frame to make it easy to install a ball hitch for towing.
The other attachment is a 3-point dump cart also designed for compact tractors. It has the dimensions of 42 inches wide, 31 inches long and 11 inches deep. The cart can hold 8.75 cubic feet and weighs 125 pounds when empty. It can carry 800 pounds and moves on 3-inch caster wheels.
John Deere extends warranty for compact equipment line
Emphasizing its commitment to producing reliable products, John Deere has announced it has extended its machine warranty on all Commercial Worksite Products for two years.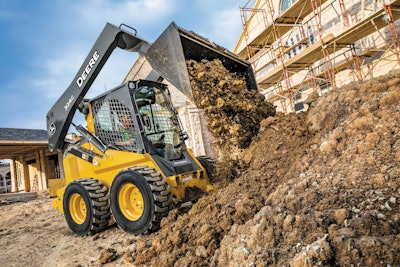 This includes new compact track loaders, skid steer loaders, compact wheel loaders and compact excavators.
"Extending our warranty across our entire lineup of compact machinery reinforces our confidence in the quality of the equipment we produce," said Graham Hinch, division manager, John Deere Commercial Worksite Products. "Backed by our robust dealer network, this added protection offers our customers' peace of mind, so they can focus on maximizing productivity and profits."
The new warranty now guarantees that Deere will fix any defects for two years after delivery or 2,000 hours, whichever comes first. The previous warranty lasted one year.