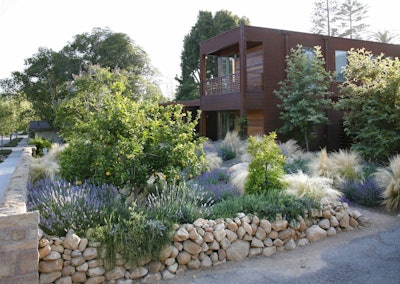 If your customer is ready to forsake the traditional lawn, this doesn't necessarily mean he/she has to give up greenery entirely.
Homeowners can have many reasons for wanting to get rid of all or some of their grass, from having a shaded space where the turfgrass grows patchy at best to needing to conserve water, but you can step in and show them they don't have to switch to an artificial option to have a dependable carpet of green.
Turfgrass is by no means a bad choice for a yard and is ideal for many settings, but for some, selecting a lawn alternative can better suit their lifestyle and landscape.
Alternative grasses
For customers who don't have a lot of foot traffic in their front yard, opting to use Carex species can provide a green space that still has a grassy look to it. The plant grows in clumps and, depending on the variety, comes in various sizes and textures.
There are sedge species native to all regions of the United States and they are particularly known for their ability to thrive in the shade. Sedges tend to require less maintenance than turfgrass, greens up earlier in the spring and lasts late into the fall.
Customers can leave sedge alone for a more meadow-like look or mow it a few times a year for a lawn appearance.
Other ornamental grasses that can create lush lawn substitutes include Japanese sweet flag, velvet grass, purple three awn and sheep's fescue. When selecting an ornamental grass replacement for your client's lawn, consider its care needs, as some may not do well in certain conditions. The texture and color will also play a factor in deciding which is best for your client.
Moss
If the property you are working with has moist, shady areas with acidic soil, there is the option of growing a moss lawn. This choice, once again, removes the maintenance factor of mowing.
When it comes to introducing a moss lawn, your clients will need to be patient, as it is a slow growing plant that spread via spores, rather than seeds. Aside from waiting for moss to grow on its own, the other option is placing pieces of moss on the surface. Keeping it moist for the first three weeks will help it grow and spread.
Most moss types cannot tolerate heavy foot traffic, so pavers should be added as a walkway if the planned moss area is frequently walked through, but fern moss can withstand a fair amount of foot traffic.
Prairie meadow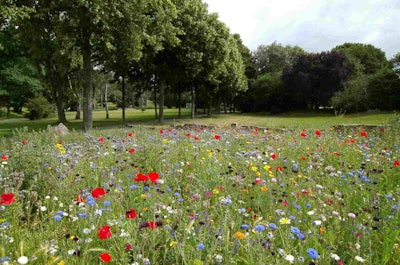 Depending on your clients' location and patience, a prairie meadow can create a beautiful field of flowers and grasses, but others might not appreciate this wild look, especially in an HOA neighborhood. Also, in order to establish a true meadow, it will require proper site preparation of removing the undesired plants and around three years of care before the meadow plants become established.
If this doesn't suit your customer's plan, you can always create the semblance of a meadow by mixing grasses and wildflowers. The key to this look is creating a base layer of warm-season native grasses or cool-season sedges. In the gaps between the base layer, ornamental flowers can be planted in drifts to create a 65 percent mix of ornamental grasses and 35 percent flowers.
This lawn substitute can enhance biodiversity by creating food and shelter for pollinators.
Groundcover
In areas that need vegetation to prevent soil erosion but are hard to maintain a lawn, groundcovers can step up to handle the job. These plants are low-growing with very little maintenance needed and are suitable for steep slopes, sharp angles and narrow strips.
Avoid planting invasive species like Japanese pachysandra, English ivy, and periwinkles, but instead, opt for groundcovers that are native to your area. Creeping thyme, bugleweed and sedum are just a few of the multiple groundcover options available.
It's important to consider the groundcover's growth rate, hardiness, mature height and ability to withstand foot traffic when selecting one or more species.
Edible garden
Before the advent of the modern lawn, many front yards were a space for kitchen and cottage gardens, where plants for food and medicine could be found.
As these needs were met by more readily available options, the kitchen garden was replaced with purely decorative plants. Yet as attitudes shift to a desire to know where things come from, edible gardens have become popular once more.
Having an edible garden is another tricky choice when it comes to HOAs and neighbors, but as long as things are design in a neat manner with edibles replacing ornamental foliage, some might not have a problem with the change.
Incorporating flowers along with your edibles will ensure the garden will have greenery even after certain crops are harvested.