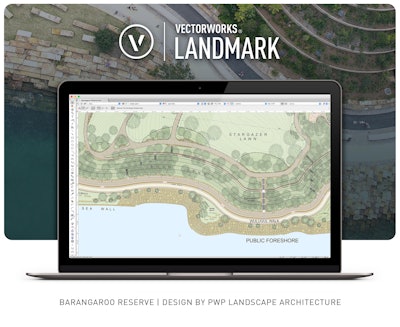 Vectorworks, Inc. has announced the release of its 2019 design software with many of the updates concentrated on increasing workflow efficiency and improving overall performance.
"For this release, we listened closely to our customers and balanced new innovations with exceptional quality and performance improvements," says Biplab Sarkar, Vectorworks CEO. "Specifically, in Vectorworks 2019 we concentrated on our customers' most common workflows for designers in the architecture, landscape, entertainment and interior design industries."
Vectorworks Landmark 2019 has a number of new features and improvements. Several of the additions have been made in response to user requests.
One of these includes layer and class filtering. Previously, users had to scroll through long lists to find the layer and class they needed. Now, with the 2019 version, landscapers can find the class or layer they are looking for by typing in a keyword search or filtering the results based on specific properties.
Another requested element was the ability to use the clip cube on sheet layer viewpoints. Vectorworks allows the designer to use clip cubes in any rendered view or style.
In the vein of productivity, Vectorworks has also made it easier to work with imported PDF files. Users can toggle off and on annotations, control background fills and resize and align multiple PDFs at the same time.
"Vectorworks 2019 is a release that will have a dramatic impact on productivity, allowing designers to make their day-to-day design work faster and easier," says Steve Johnson, vice president of product development. "Users will experience the benefits of this version the moment they open the new software and see files open up four times faster."
A further development from Vectorworks 2018's direct site model contour editing is 3D site model sculpting. The previous software only allowed users to edit a site model in 2D. Now with Vectorworks 2019, users can easily and intuitively sculpt a site. After sculpting, designers can run a site analysis and calculate the effects of the changes without having to use specialized add-ons or other products.
The hardscape object has been improved so it can define various components such as pavers, mortar, concrete slabs, gravel and more. It can specify paving material layers and create accurate material take-offs. It can also slope hardscapes for drainage when used along with the Slab Drainage tool.
While one of Vectorworks Landmark's notable features has been its ability to create planting plans, the company has worked to simplify the interface and make it easier for new users to learn yet retain the advanced functionality for Vectorworks veterans.
Also, the Choose Plant Data Source command now has a new option where landscapers can choose to open the default plant database or open a specific plant catalog from online resources. This will enable users to work more efficiently with their preferred plant palette and save time from having to search the entire plant database.
Time is additionally saved thanks to the new AutoTURN Online browser, which enables landscape architects to determine if a design accommodates the turning paths of vehicles. Now, all a user has to do is upload a design, select a vehicle and perform a simulation and export the results back into the project file, eliminating the need for trial-and-error work.
As an added bonus, Vectorworks 2019 offers image editing abilities within the software itself so there is no need to export the design to other applications such as Photoshop or Illustrator to put that finishing touch on a landscape design.
"Users will greatly benefit from the ability to refine renderings and images without having to export to Photoshop," Johnson says.
For more information about Vectorworks 2019, click here.