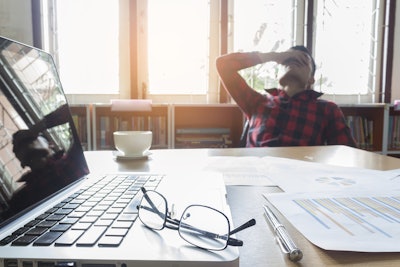 Regardless of how long your landscaping business has been in operation, everyone experiences the occasional mishap.
Even with these mistakes, it doesn't mean your company will fail, however, if you don't learn from these mistakes and correct them, it could spell disaster for you.
People aren't perfect, so assuming you and your employees won't mess up at some point along the way isn't realistic. Take a look at a few of the most common mistakes professional landscapers make that can significantly impact your company if they are not quickly corrected.
Running your business, training employees
One of the biggest issues landscape company owners face is not running their company like a business.
Everything your company does and every project you work on communicates a certain perception of the green industry to clients and the public.
Because of this, it's important to make sure everything about your business is on the up-and-up. Meaning, you'll need to ensure you have the required and appropriate certifications, training and education, licenses and insurance needed to do these jobs. Make sure finances and bills are handled on time and don't be afraid to ask financial professionals to intervene when it's time to begin tax season preparation.
"No matter how careful and detail minded you are, some jobs will get messed up," says the National Association of Landscape Professionals (NALP). "Learn from your mistakes. One important lesson many owners and managers learn is to review variances weekly. If you're 15 percent over budget, find out why. Discuss that with your team and fix it. If you're under by 20 percent, there may be a quality issue that needs some attention. In either case, remember that training is not an expense; it's an investment."
Starting from the top, there must be the desire and drive to foster an environment of learning and company safety. This, as do all company-wide initiatives, starts with you, the owner. Along with making sure your employees are continually educated, make sure you yourself are up-to-date on the latest certifications and programs. Even if it means holding extra training opportunities after work or on the weekends, it's crucial that your employees are able to complete jobs fully, safely and accurately.
Get involved with as many local, state and national green industry organizations as you can, and always stay in the know about current issues, trends and events happening in the industry.
Bidding issues and poor communication
We've talked in depth before about the importance of understanding the bidding process and finding quality bids, but as a whole, it's important to remember that you don't need to underbid just to get a job.
Once you've become established enough as a reputable company that offers top quality work, you will have the flexibility to then be more selective in which jobs you decide to take.
If at all possible, it's a good idea to inspect a jobsite before putting in a bid on it. For all you know, the site could have many hidden issues that won't be made known until later down the road, and it's best to know exactly what you'll be getting into before you've already committed to it.
To find out more about the importance of selective bidding, click here.
No matter where and in what industry you work, communication will always be key. No company can become successful and maintain that status without being able to communicate effectively.
"Explain why you made the design choices you did and that gets away from a lot of the miscommunication at the end," says Cheri Stringer, landscape designer and owner of TLC Gardens based in Longmont, Colorado.
Always be clear when communicating with both customers and employees, and be sure to tell them upfront what is expected of them, as well as what will and won't be tolerated. Never assume that someone understood your implied meaning or way of thinking, as this could lead to a multitude of mishaps and misunderstandings.
Techniques, functionality and design
As any professional landscaper will tell you, this vocation is much more than simply mowing lawns or throwing plants into holes.
Because of the intricacies, sciences, education and training that accompany this line of work, it's imperative that your planting and maintenance techniques are accurate. If you leave a jobsite and within a few days everything begins dying or looking unattractive, that's going to reflect horribly on your company.
Granted, there are many factors that could contribute to such an occurrence, but if it boils down to the plants and turf not surviving because your installation and care techniques weren't up to par, the blame falls on you.
"Another thing is not considering the hardiness of the plants," says Jan Johnsen, co-principal and owner of Johnsen Landscapes & Pools. "Nurseries will sell beautiful plants that everybody loves, but they may be only marginally hardy for that area. After the winter, they are dead. You have to check the hardiness before you plant."
While the installation aspect of landscaping is important, being able to create attractive and functional designs is also part of the job description.
It's up to you to know how different designs will play out in a space, what will and won't fit, whether customers will or won't be able to use what you install and how to communicate all of this to the client.
Reputation and comparison
There are many in the world with the mentality of, "I don't care what people think of me," but this does not translate well into the world of business.
Keep close tabs on your company's reputation, both online and around your coverage area. Forming positive relationships with your customers and others in the community will make it a more appealing prospect to do business with your company, and being known as a reliable group can help you generate more projects.
One way to maintain your reputation is to own up to your mistakes.
"The best thing is always just to fix it and acknowledge the responsibility of it," says Marisa Gora, landscape designer and owner of Kemora Landscapes based in Chicago, Illinois. "The reputation you have with the client is more important than the money you make or lose. You can't put the responsibility of learning on your clients. You can't charge them for that. Eat it as part of the cost of learning."
If you're just starting out, take the time and money to invest in uniforms for your crew. Even if it's something as simple as matching work shirts and protective hats, the smallest bit of uniformity will help create a more professional and legitimate look.
A legitimate and reputable online presence is becoming increasingly important as well, so be sure to stay on top of your website and social media pages to ensure accurate and positive information is being shared. If you're a company with an active social media presence, be sure to keep high-quality photos and current information present across all channels.
"That's your face to the world," Johnsen says. "So you have to be willing to put the time and the money into your website. That is your face more than anything."